09/26/2018
The Amazonization of online grocery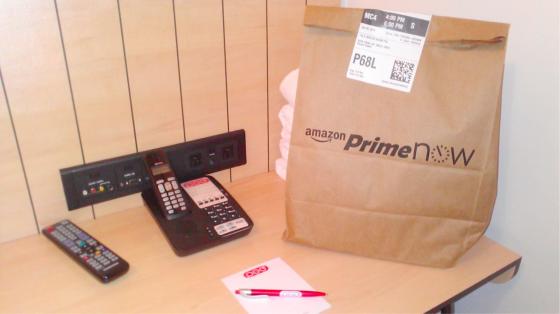 With the addition of 10 new cities, Amazon now offers Prime Now delivery from Whole Foods stores in 48 cities a year after buying the natural foods grocery chain for $13.7 billion.
Amazon's laser focus on online grocery comes as many conventional grocers have embraced the click and collect model and aligned themselves with third party delivery providers such as Instacart, Shipt, Postmates and others.
The news also comes as retailers such as Home Depot are also expediting roll-outs of same-day delivery.
"Prime Now delivery continues to be a hit with our customers and we're excited to introduce the service in ten new cities plus more neighborhoods in New York and Seattle," said Christina Minardi, Whole Foods Market Executive Vice President of Operations. "And for our customers in Ft. Worth, Kennesaw and Richmond, we're thrilled to also offer the option of grocery pickup. It's just another way we're making it even easier for more customers to enjoy Whole Foods Market's healthy and organic food."
But Amazon has not abandoned the click and collect model altogether. In addition to extending Prime Now grocery delivery to 10 cities, the company is also expanding grocery pickup from Whole Foods Markets.
Amazon grocery pickup launched last month and is now available in Ft. Worth, Kennesaw, Richmond, Sacramento and Virginia Beach, with continued plans for expansion. To enjoy grocery pickup, Prime members place their order via the Prime Now app and choose the pickup option at checkout. Customers can choose free pickup in as little as an hour on orders of $35, or in 30 minutes for $4.99. After arriving at the Whole Foods Market store, customers park in a designated pickup spot and a Prime Now shopper will place groceries into their car within minutes.
Amazon Prime Now delivery entails two-hour grocery deliveries for free on orders of $35 or more and in one hour for $7.99 per order. Deliveries are available from 8 a.m. to 10 p.m.
Meanwhile Prime members shopping Whole Foods Market can take advantage of discounts on select popular products and an additional 10 percent off hundreds of sale items. Eligible Prime members also receive 5% Back on Whole Foods Market purchases when using the Amazon Prime Rewards Visa Card.