12/17/2018
 Costco's Q1 provides real world economic indicator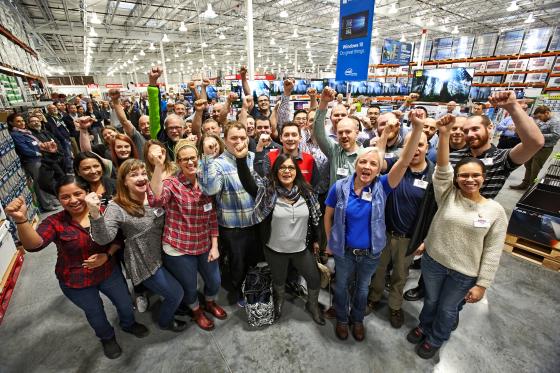 American consumers feel great about their personal situation and the outlook for the U.S. economy if their spending behavior at Costco is any indication. Costco's sales increased 10.3% and U.S. same store sales, excluding fuel, increased 8.3% during the company's first quarter ended Nov. 25. E-commerce sales grew 26.2% and now account for nearly 5% of the company's total sales. And more people paid more money to shop at Costco's global footprint of 768 warehouses with first quarter membership fee income up 9.5% to $758 million.
The sales growth was aided by the addition of six net new warehouses during the quarter. For the full year, Costco expects to open a total of 23 net new warehouses and about three fourths of those will be in the U.S.
As Costco's global footprint inches closer to surpassing 800 units, the company's e-commerce business continues to grow more quickly. Costco CFO Richard Galanti highlighted a number of initiatives and pilot programs the company has underway to help drive further growth. For starters, he said the company "set all kinds of records for orders and sales during Black Friday through Cyber Monday. He singled out grocery, consumer electronics, hardware, health and beauty and automotive as top growth categories.
"One highlight of our website refinement during the quarter was our redesign of the home categories. We feel that the refresh made departments like furniture, domestics and house wares easier to shop," Galanti said. "With that change, we also expanded some of the product selection within the subcategories."
The company also recently began offering a range of Apple products and recently passed the one year anniversary of its online grocery launch and now offers same-day grocery delivery to those living within 20 minutes of 99% of its U.S. locations, according to Galanti.
The company has also expanded the assortment available for buy online, pick up in warehouse and even begun experimenting with pick up lockers at 10 locations. What Costco isn't looking to do, according to Galanti, is offer buy online, pick up in warehouse for the grocery category.