The Fresh Market delivers on brand promise
Get great content like this right in your inbox.
Subscribe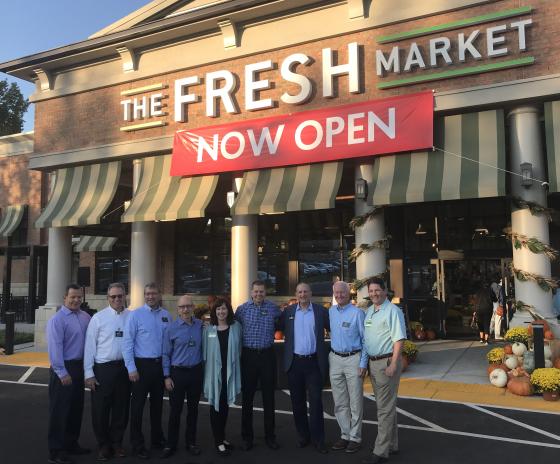 Any retailer bold enough to declare itself, "The Fresh Market," set a high expectation among shoppers before they ever set foot in a store. And so it is with Greensboro, N.C.-based The Fresh Market, a chain founded in 1982, that over the past decade had veered from the lofty branding statement of its name. That's not the case anymore, as evidenced by a new prototype in Charlotte, N.C. and the philosophy of President and Chief Executive Officer Larry Appel.
"Our merchandising strategy is to be a fresh-focused specialty store," Appel told Retail Leader. "We travel the globe ourselves and through our distributors to find unique items to create a treasure hunt environment. We've curated special products discover and explore which helps us accomplish our mission of inspiring guests to make every day eating extraordinary."
That strategy comes to life in numerous ways throughout the 21,000-sq.-ft. store, the company's fifth in Charlotte, which is 5,000-sq.-ft. larger than the location it replaced. The additional space houses a larger assortment of products that Appel alternatively characterizes as unique, innovative and best-in-class. One of the signature departments is a new meals-made-easy section with an offering of chef-inspired entrées, sides and complete meals that are ready to cook or simply heat. The meals-made-easy assortment compliments an expansive deli department located in the center of the store that also provides a wide range of "what's for dinner" options.
The store features three-times the variety of fresh produce compared to traditional grocery stores, according to Appel, and the products are cut in store. There are also prime-graded meats, fresh-caught seafood, imported and domestic cheeses and charcuterie, fresh baked items and desserts. The merchandising approach is why Appel defines the retailer as a "fresh specialty store."
"We are a curator, not a category manager. That is what fresh specialty means to us." Appel said.
The distinction, while subtle, is designed to differentiate The Fresh Market in an increasingly crowded field where natural and organic grocers and major food retailers are vying for the growing segment of shoppers who are time-starved and looking to eat cleaner, healthier, interesting food that requires little to no preparation.
"One of the things that is going to differentiate us is you are going to want to come into the store because it is a treasure hunt and we will create an experience that people look forward to," Appel said.
The company has certainly done that with its newest location in Charlotte. The challenge, as is always the case with prototype stores, is rolling out those elements that generate the highest return to other locations in a cost effective manner. Appel believes the company can do that because much of the change relates to product and the approach to merchandising it that can be replicated in a less capital intensive way than new construction.
"The top priority right now is being great at fresh, having unique special products throughout the store, and then having guest service that is as special as the products so when shoppers come in the store the experience is unique," Appel said. "We don't want shopping to be a chore, we want it to be a joy."
If the company can deliver on that expectation more broadly it will have succeeded in more fully living up to The Fresh Market name and will be in a better position to let people know about the changes.
"We are not putting the cart before the horse. We needed to build vision and value proposition and then you tell people about it," Appel said. "The priority has been to get back to who we are so we can brag about it and people can tell their neighbors about it."
The other thing The Fresh Market needs to build is the type of omnichannel capabilities other food retailers have moved quickly to add in the past 18 months. Appel is aware the company needs to provide online ordering for in store pick up and home delivery and plans to introduce those capabilities in the fourth quarter.
"We are going to be omnichannel and meet the guest on their terms, but the cornerstone of our business is going to be the unique experience we provide in our stores," Appel said.
From Lawyer to Leader
Appel joined The Fresh Market on Sept. 11, 2017 to fill a position previously held by Rick Anicetti who departed the company in 2017 after it was taken private by Apollo Management the prior year in a deal value at nearly $1.4 billion.
Appel joined The Fresh Market from Skeeter Snacks where he served as CEO, but prior to that he held senior operations, legal and strategy roles at Winn-Dixie from 2002 to 2012. Prior to Winn-Dixie, Appel was senior vice president of legal at The Home Depot. Once at The Fresh Market, Appel moved to build a team of senior leaders whose backgrounds offer insight into how The Fresh Market plans to move forward.
One of his first hires came in December 2017 when Mary Kellmanson joined as Chief Marketing Officer. She had worked with Appel at Skeeter Snacks as CMO and prior to that held a senior marketing roles at Winn Dixie and Wegmans Food Markets. In January 2018, Yvonne Cowser Yancy joined as Senior Vice President and Chief Human Resources Officers after serving as the top HR executive for the City of Atlanta.
In March, veteran fresh merchant Vic Savanello was named vice president of produce merchandising. He had spent the prior decade as senior director of produce and floral at Allegiance Retail Services and prior to that more than two decades in produce roles at Wakefern Food Corp.
In April, Appel elevated Rich Durante to the role of Chief Merchandising Officer from his position as a regional EVP of merchandising. He had previously served as President and COO of AG Supermarket Holdings, operator of banners such as Kings Food Markets, Balducci's Food Lover's Market and Balducci's On the Go Café.
With a great team in place and a supportive private equity owner, Appel said shoppers across The Fresh Market's network of roughly 170 stores are going to see a lot of cool stuff in the coming years.
 "Our first priority for capital is to deploy elements of (our Charlotte store) that are most successful to enhance the sales and productivity of the rest of the fleet," Appel said. "This business was a turnaround so first we had to get back to our roots, execute consistently and look to enhance things from there. Our core systems are solid and we have a nice foundation to build from and resources to make investment over the next 24 months. We are extremely well-positioned."