10/08/2018
The Fresh Market fulfills its vision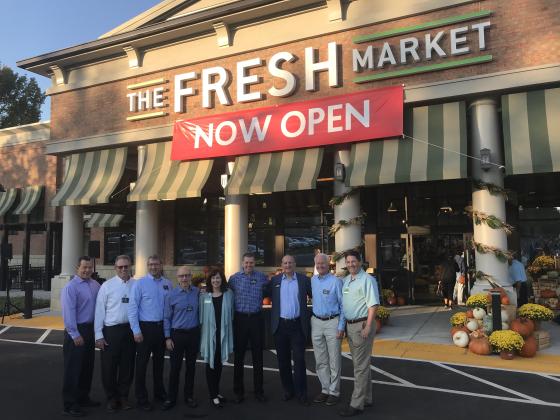 The Fresh Market's newest prototype store shows the retailer is taking its name very seriously. The 21,000-sq.-ft store opened Oct. 4, in southeastern Charlotte, N.C. and offers a glimpse of how The Fresh Market is thinking about serving shoppers' preferences for convenience, freshness and meals made easy.
"We want our Charlotte guests to feel inspired to eat extraordinary food every day from the moment they walk in the store and as they make their way through every department," said Todd Nettnin, manager of the new store relocated from nearby store that opened 27 years ago. "With an enhanced selection of top-notch, curated products and the new modern look and feel in the store, we think our guests will be wowed with all the bells and whistles this store has to offer."
The new store at 4207 Providence Road in an area of Charlotte known as Strawberry Hill is about 5,000 square feet larger than The Fresh Market's 160 other stores. With the additional space, the store houses an even larger even larger assortment of unique, innovative and best-in-class products, including a new "meals-made-easy" section with chef-inspired entrées, sides and complete meals that are ready to cook or heat, according to the company.
The prominent meal solutions section includes customizable bistro meals from the deli, Market Meal Kits (filled with premium, pre-measured, prepped ingredients), four-serving Little Big Meals, gourmet lunches to-go and pre-cut vegetables.
Other notable features include signature grocery and premium private label products, many of which are exclusive to The Fresh Market and a variety of fresh produce items the company contends is three times as large as a available at a conventional grocery story. The Fresh Market also offers prime-graded meats, fresh-caught seafood, imported and domestic cheeses and charcuterie and fresh baked items. The store also offers an expanded selection of bulk items, a merchandising approach the retailer had strayed from brought back in a big way after shopper feedback.