Giant Food hopes for a home run with shoppers
Get great content like this right in your inbox.
Subscribe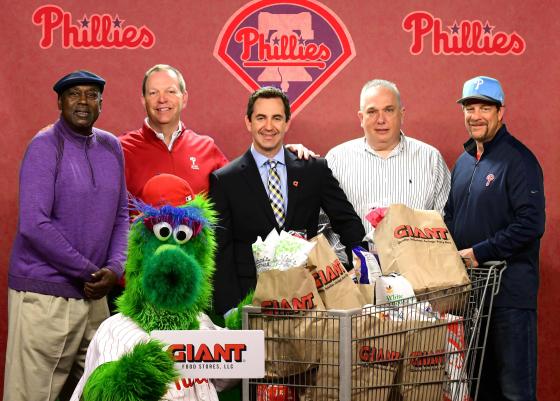 GIANT Food Stores is teaming up with another iconic Pennsylvania brand, the Philadelphia Phillies, to boost local communities.
GIANT has signed a multi-year agreement to be the "Official Grocer of the Phillies."  With this new partnership, GIANT will have a visible presence at Citizens Bank Ballpark, and the company will present new promotions to the Phillies fan base.
"Like the Phillies, GIANT Food Stores has a long history in Pennsylvania," said David Buck, Phillies executive vice president. "Our new partnership brings a natural synergy both at the ballpark and in the community, and we are proud to welcome GIANT as the 'Official Grocer of the Phillies.'"
At the center of the partnership is a shared commitment to community. The Phillies and GIANT will work side-by-side to provide help and resources to community organizations with the launch of the following programs:
Participation in Phans Feeding Families; GIANT will enrich the Phillies' summer hunger relief program held in conjunction with hunger-relief agency Philabundance
Sponsorship of the Phillies Phitness program; GIANT will bring its expertise in nutrition to the program that benefits school-aged children throughout the Philadelphia area
Support of the Phillies Week of Giving; GIANT will work together with the Phillies to provide turkeys as part of cooked meals for the homeless at the Bethesda Project
 
"As we celebrate our 95th year in Pennsylvania, we are thrilled to join with our hometown team both inside and outside of the ballpark," said Matt Simon, GIANT vice president, marketing. "We feel we can 'hit for the fences' in our communities alongside the Phillies as we fight hunger and help keep kids healthy."
In addition, GIANT also will sponsor the Phillies' Phanatic MVP Kids Club. Fans 14 and under are invited to join the legions of young fans who are members of the Phanatic MVP Club and it's perfect for anyone who loves the Phillie Phanatic. 
Recently, GIANT hosted the Phillies Rally Bus at four of its greater Philadelphia area stores. Customers enjoyed giveaways, raffles for Phillies tickets and autographed items, GIANT giveaways, coupons, and more. GIANT also was proud to provide the cake for the Phillie Phanatic birthday party last month.
GIANT Food Stores, LLC has more than 170 stores in Pennsylvania, Maryland, Virginia and West Virginia.