09/11/2018
Giant Food store is now zero waste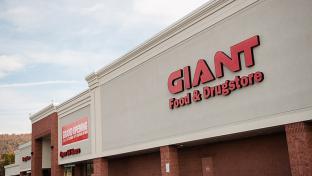 Giant Food stores is moving straight towards its zero waste goal through its dedication towards becoming one of the most environmentally friendly grocers in the U.S.
As part of its sustainable retailer commitment, the company announced that it's Cleona, PA store located at 481 West Penn Ave., is the first in the chain to reach zero waste. A recognized definition by the U.S. Environmental Protection Agency, zero waste means 90 percent or more of a store's total waste is being diverted from a landfill or incineration.
"It's been a total store effort as we set up each department so it's easy to do the right thing when it comes to lessening our environmental impact," said Judy Knarr, Cleona Giant assistant store manager and green captain for her district. "We have associates across the store who have embraced our recycling efforts and collectively have changed the store's culture to achieve this goal."
Cleona associates have been incorporating recycling procedures throughout the store as well as carefully monitoring what is sent to the store's trash compactor so nothing gets thrown away that could potentially be recycled. This includes ensuring no cardboard is labeled as garbage, filling designated bins with food waste and scraps for organic recycling, and collecting plastic bags, plastic film, and empty pharmacy pill bottles to be sent back to Giant's recycling center. This began in earnest when, in 2012, the company put a spotlight on best practices to reduce waste within stores.
"Doing our part in caring for the environment for future generations is a major initiative for us company-wide," said Manuel Haro, vice president of strategy. "To reach zero waste is a significant achievement that required the complete dedication of all Cleona store associates. Not only is Cleona the first Giant to reach zero waste, it's also the first store among our Ahold Delhaize USA sister companies to achieve this milestone!"
Currently, 77 percent of all waste generated by its stores is diverted through recycling and composting.
Last year the company revealed that it had saved more than 930,000 trees by recycling cardboard at all stores and distribution centers. According to the company, since 2011, Giant and its parent company have successfully removed more than one billion plastic bags from the waste stream through more efficient bagging, increased usage of reusable tote bags by customers, and turning plastic bags into 1,500 donated park benches through its Bags to Benches program.