GIANT Food Stores goes all in on e-commerce
Get great content like this right in your inbox.
Subscribe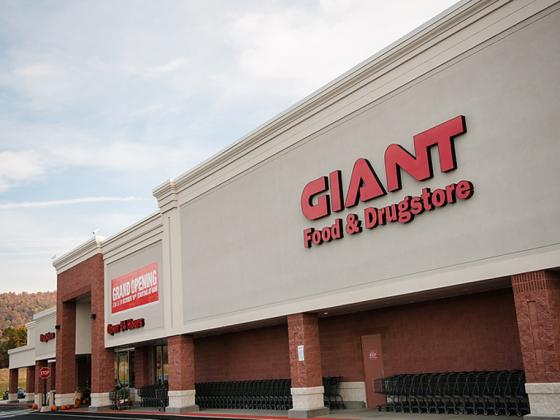 GIANT Food Stores is opening an e-commerce hub in Pennsylvania to meet surging demand for online grocery.
The company announced a $22 million investment in Lancaster County, which includes launching a new e-commerce hub at its former North Reservoir St. location, remodels at four stores, and the opening of a new Lititz fuel station.  
GIANT's new e-commerce hub is slated to bring approximately 150 new jobs to the community. 
"We're seeing double digit growth in online ordering and grocery delivery," said Nicholas Bertram, GIANT president. "We are rededicating ourselves to the Lancaster market, and we want this cutting-edge facility to be unique – something the Northeast neighborhood will be proud of while we meet this demand.  We're excited because the e-commerce hub will allow us to increase capacity quickly."  
This will be the fifth such facility GIANT has opened in Pennsylvania with Peapod.
"Grocery shopping is changing and the pace is accelerating; as a customer-centric company, innovation is the cornerstone of our go-to business strategy," added Bertram.  "Our e-commerce hub will drive growth while helping our customers to shop how they want, when they want, and most importantly, where they want."
The new e-commerce hub will serve as a grocery delivery center and will be designed with a unique format that offers curbside pickup orders, where online orders are delivered right to customers' cars parked outside of the hub. The format will also feature a walkable pickup point to meet the growing local demand for online grocery.  The innovative e-commerce hub will encompass 38,000 square feet, enabling GIANT and its online grocery partner Peapod to serve up to 40 percent more shoppers.
GIANT is also remodeling stores to include new features that make shopping and saving easier, and reflect the grocer's focus on fresh, quality products sold at affordable prices, delivered with caring, friendly service every time they shop. GIANT is expanding its product selection in stores by adding an abundant selection of fresh produce, meat, and seafood, including a new service meat and seafood destination case. The new service counter and display case features a generous selection of beef, chicken, pork, lamb, veal, shrimp, fish, and other specialty items – all staffed by expert associates who can answer fresh meat and seafood questions plus give cooking recommendations.
The grocer now has a wider variety of grab-and-go items and pre-sliced deli meats and cheeses, which are sliced fresh daily and available for customers to pick up without waiting in line.  Easy and affordable hot meals with sides for families are available seven days a week.
In the 1605 Lititz Pike location, numerous enhancements were made to the shopping experience, including a new, expansive cheese shop, a Chef Prepared case with ready to eat meal solutions, an Asian hot bar, and with juicing all the rage, customers will now find a produce juicing station as they enter the store.
There is also a new look in the health and beauty care departments of all four stores with an expanded variety of items, all easier to find due to newly installed LED lighting.
GIANT also announced it has broken ground on its new off-site fuel facility in Lititz, Pa., close to the GIANT at 1008 Lititz Pike. The facility is on track to open in August, giving Lancaster County customers another location to save at the pump with GIANT'S exclusive Gas Extra Rewards program.
In addition, to reduce its carbon footprint, GIANT recently launched a partnership with GreenPrint on an innovative reduced emissions program at all its fuel stations. When GIANT customers fill up, GreenPrint neutralizes their emissions up to 30% by investing in certified carbon offset projects such as creating local greenscapes or tree plantings.
GIANT operates eight stores in Lancaster County, employing approximately 1,300 associates.
This latest investment in Lancaster is in addition to a $70 million investment GIANT announced earlier this year to grow its store network across Pennsylvania by constructing six new stores, remodeling two locations and opening four new fuel stations over the next two years. As part of this growth strategy, GIANT plans to enter the East Stroudsburg and Walnutport communities for the first time.
GIANT Food Stores, Carlisle, Pa., has more than 170 neighborhood stores and offers home delivery, online/mobile ordering, fuel centers, pharmacies, plus in-store nutritionists.