11/21/2018
How Meijer battles Big Data fatigue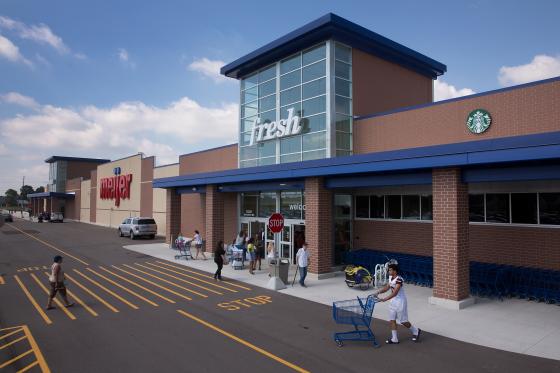 Everyone in retail is busy trying to understand and predict what the future of the industry will look like. Companies big and small have rushed to experiment and invest in data analytics, artificial intelligence and personalization, but for many retailers, those investments have yet to produce the kind of return they expected.
As a result, business leaders, especially in retail, are now experiencing a sort of "Big Data fatigue" following the onslaught of hype over Big Data the past few years. They've listened to the "experts" and spent millions on infrastructure and business intelligence tools, expecting to gain transformative insights. Unfortunately, in many cases that promise has not come to fruition and it has left executives wondering how to get the most out of their investments.
Of course, there are various explanations for negative ROI in retail. But one issue is that some companies are so overwhelmed by all of the experimentation that they have become mired in complexity and other roadblocks that are holding them back from true innovation. Another issue lies in the growth of data analytics tools and the abundance of easily accessible data, creating a culture that ignores the planning necessary to develop truly breakthrough innovation.
In fact, "data analytics" in particular has become a $200 billion industry, fueled by speed, scale and competition within the rising digital economy, and it seems as though a new "analytics solution" is born every day.
These days, top executives at retail and CPG companies are looking for a deeper understanding of how to overlay data analytics, artificial intelligence and personalization in a way that gets results quickly. Fortune 500 companies are telling leading data analytics firms such as Teradata that they are fed up with big analytics investments that haven't borne fruit.
 It's these kinds of frustrations that motivated Teradata COO Oliver Ratzesberger, the former analytics chief at eBay, to issue a mandate during his company's annual user conference last month to retailers, CPG firms and other companies looking to data analytics to reinvent their business models.
"Stop buying analytics. Stop buying 'solutions' that over-promise and under-deliver. Start investing in answers, answers that will change how your business operates," Ratzesberger told a roaring crowd of 3,000 in Las Vegas in October at Teradata Analytics Universe 2018. At the show, the 40-year-old company unveiled a new logo, a new suite of software, and a promise to deliver "answers" to customers, not more analytics.
"Data intelligence is only pervasive if it is 100 percent in service of everyone, every machine, everywhere all the time," Ratzesberger said.
He explained to thousands of Teradata customers, partners and employees why companies need to simplify their analytics investments, and how Teradata can help. The company showed off a new approach called Teradata Vantage, "a platform for pervasive data intelligence," as Ratzesberger put it. Vantage provides a centralized bundle of tools, technology and applications that deliver a variety of analytic capabilities. But, it's not just data analytics that is having a moment of reflection and reevaluation during this time of retail disruption.
 As change continues to occur at a faster pace, no company can afford to be fixed into one way of thinking. The challenge before retail and CPG executives now is to find new ways to adapt to quickly changing conditions and spot opportunities. Smart organizations have developed a system to deal with unexpected changes that threaten their business models. One such smart organization is Meijer, which has used "sentient enterprise methodology" to create more agile operations in this data-driven world.
Meijer's Sentient Journey
Executives from Meijer explained the sentient enterprise concept at the Teradata conference as a five-stage road map for businesses — even large multi-national corporations — to combine technology, governance and human engagement around data in ways that preserve startup-style agility.
"You have to have the right culture at your company. Culture eats strategy for breakfast. You can have the best strategy in the world but you have to take a look at the culture of your organization. Are you a data driven company? Basically there are three types of companies. Number one, there are data driven companies. Number two, you're on your way to becoming a data driven company. Number three you're going out of business," said Tim Zeitter, who leads Meijer's Business Intelligence & Enterprise Data Warehouse infrastructure team.
Zeitter says Meijer's Big Data strategy is about making decisions in real time at the speed of data, with the system ingesting information using algorithms to make most decisions autonomously. But the company says retailers have to do more than just collect and analyze data to transform their business. They have to implement real-time data ingestion flows to quickly update or add to those flows in response to changing business requirements. For Meijer, its transformation journey has five stages or platforms: agile data, behavorial data, collaborative innovation, analytical apps and autonomous decision-making.
"I look at the first three stages — agile, behavorial and collaborative — as how retailers should be setting up to run their organization. This is the technology framework you need in order to transform your organization," Zeitter said.
Zeitter said Meijer is moving away from analyzing transactional data and looking more at behaviorial data. Meijer now believes that value comes from behaviors, not transactions.
"We are changing from focusing on transactions to focusing on the behavior of people and the behavior of devices. Because of us stepping back and looking at the behavior of our customers, we have launched store pickup in 227 stores and offer a variety of in-store and delivery fulfillment options," Zeitter said.
Zeitter says when Meijer looked at the behavior of grocery delivery customers (the retailer outsources its grocery delivery to Shipt), the majority of those customers used mass transit.
"They were visibly challenged in getting to our stores, and this service solved a problem for them. It was a much different expected behavior," Zeitter said. The retailer also expanded grocery delivery to include alcohol after the company looked at behavioral data and saw that customers were buying a lot of craft beer.
Meijer says it also took "a long hard look" at launching scan-and-go technology similar to Walmart's (Walmart quietly shelved its Scan & Go service earlier this year). But based on behavorial data, Meijer went with a different kind of express checkout technology: Shop and Scan. The Shop & Scan service allows shoppers to scan products as they shop with a Meijer app downloaded on their phones and bag the groceries on the go. To check out, shoppers hold their phones up to a self-checkout register, then walk out the door.
"As customer expectations and technology have changed, so have we. And so has our Meijer app. Our app has personalization built in, with coupons, rankings and favorites personalized to their shopping behaviors," Zeitter said.
"We show their favorites on sale, we show the items that they may need, and we offer some suggestions on new items to discover. We do that by going back two years into the shopper's purchase history."
The company is also moving forward on doing more with sensor data and adding a fleet of electric tractor trailers to better monitor fresh food temperatures. But beyond Big Data and personalization, Zeitter said, the retailer is looking at artificial intelligence and machine learning with technology such as item recognition and facial recognition.
Beyond the AI Hype
Meijer looking to leverage artificial intelligence and machine learning in its business processes is just part of the new normal in retail.
"When you look at the term, 'artificial intelligence,' it's not artificial, it's automated. It's looking at how to make a manual decision process automated so that you can re-purpose the resources that would have performed the physical processes. You can then have that individual look at ways to do more product exploration and look at different ways to improve the customer experience," Halula said.
He said there are four specific areas of retail in which artificial intelligence is going to be a game changer: inventory automation, workforce optimization, and customer experience.
"Product availability is the hot topic for any retailer: How do I improve my inventory at the stores? What do I have available online? How does not having that product on the shelf at the right time affect that experience for the customer? You can have great marketing campaigns, great coupons, great promotions. But if you don't have the product available at the time the customer wants it, it's all for naught. So the last mile is absolutely critical. And AI can help with all of that."
Each retailer's journey toward the future, or "sentience" as Meijer puts it, will vary in shape, size and scope. But preserving startup-style agility might be the most important key to success in this industry.