How Walmart is winning the online grocery shopper
Get great content like this right in your inbox.
Subscribe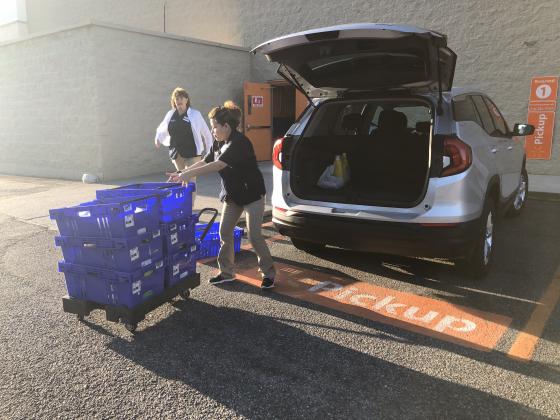 Walmart is winning the online grocery shopper with its omnichannel offering of grocery pickup, delivery and shipping.
According to a comprehensive new online grocery report and survey from Field Agent called, "The Digital Shopper," Walmart is the most popular grocery shopping option (for local pickup/in-town delivery) among online grocery shoppers. 
Amazon is winning the race, however, when it comes to online groceries shipped, with 72% of online groceries being purchased on Amazon.com, and 63% of groceries being shipped from Walmart.com.
According to the report, 59% of survey respondents said they use Walmart Grocery Pickup for their online groceries locally fulfilled, followed by Kroger ClickList and Amazon.
Where did digital shoppers purchase their groceries/household consumables?
Walmart Grocery Pickup                             59%
Kroger-ClickList/Kroger-Instacart               15% 
AmazonFresh Delivery/Pickup                     7% 
Target-Shipt                                                  3% 
Meijer-Shipt                                                  2% 
Fred Meyer-Instacart                                    2%
Smith's Grocery-Instacart                             2% 
Publix-Shipt                                                  2% 
Sam's Club Pickup/Instacart                        1% 
Costco-Instacart/Costco-Google Express    1% 
Safeway-Instacart                                         1%
Whole Foods-Instacart                                  1%
H-E-B Instacart/H-E-B Shipt                          1% 
Aldi-Instacart                                                  1%
Frys-ClickList                                                  1% 
ShopRite Pickup/Delivery                               1% 
HyVee Pickup/Delivery                                   1%
Sprouts-Instacart                                            1% 
The popularity of Walmart's Grocery Pickup would seem to fly in the face of what most food retailers are moving toward: delivery, instead of buy online-pick up in-store.
The report also says that shoppers were very satisfied with Kroger's online grocery shopping experience, followed by Walmart and Amazon.
The report offers a shopper-centered look at today's most "connected" customers, with special emphasis on shoppers who go online for "everyday" items like groceries. The full report can be downloaded here.  
"We're witnessing the rise of a new type of online shopper: those who rely on e-commerce to satisfy even their basic, daily needs," said Rick West, CEO and co-founder of Field Agent. "Although shoppers who go online for groceries and other non-durable purchases are still in the minority, we know a tipping point is coming. That's why companies are scurrying to figure out these digital shoppers—because they're the way of the future."
Of particular relevance to retailers and consumer brands, The Digital Shopper shares insights into the actions and decisions of 451 shoppers immediately following an online "grocery shopping trip"—mapping out their journey from start to finish. Field Agent found, for instance:
55% of online grocery shoppers make a shopping list prior to going online

65% make one or more unplanned purchases while shopping online

59% are completely or very likely to make an additional in-store trip to complete their grocery shopping
The report also includes insights on everything from Instacart delivery to automatic subscriptions, product detail pages to digital promotion. Sample noteworthy insights include:
Personal care (40%) is the top product category for automatic, online subscriptions, followed by cleaning supplies (34%)

83% of online shoppers say product images/photos on the product detail pages they visit are extremely or very influential to their online purchases, compared to product reviews at 75%

75% of first-time Instacart users in a Field Agent "user experience" study were completely or very likely to use the delivery service again
Shoppers who go online to purchase "everyday" items like groceries and household consumables are still in the minority, however.  
A Field Agent survey of 9,088 U.S. adults conducted in March 2018 found that only 18% of shoppers presently purchased fresh groceries online. About 26% go online for packaged groceries. And about 20% indicated they shop online for at least three of the following four categories: packaged groceries, fresh groceries, household cleaning supplies, and/or personal care supplies.
To see the rest of the data, click here.