Kellogg turns to Top Chef to drive holiday sales
Get great content like this right in your inbox.
Subscribe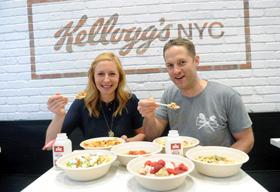 Kellogg is teaming up with Top Chef host Padma Lakshmi on a holiday promotion designed to inspire consumers to consume cereal in a new way.
The company will host a cereal-centric baking competition in partnership with Lakshmi, called Kellogg's Holiday Baking Challenge, and will crown a winner out of four finalists at Kellogg's NYC Café in New York City.
Bakers will feature one or more Kellogg's cereals as a key ingredient in their dish. The Kellogg's NYC Café will be transformed into a modern "bake shop" to inspire the bakers and their creations, showcasing the possibilities that can come from cereal. 
"As we've seen at the Kellogg's NYC Café and on social media, people love to play with cereal and explore fun, new ways to create with it," said Aleta Chase, Kellogg's Marketing Director. "What better way to celebrate than by using cereal in your holiday baking!"
The contest is part of Kellogg's new strategy of extending its brands into an experience, particularly at a store such as the Kellogg Cafe. This type of branding can be beneficial for CPG companies looking to stay ahead of evolving consumer preferences.
The competition will take place on Wednesday, Dec. 12 and Lakshmi will be in attendance to taste each cereal-themed dessert before announcing the winner. The winning baker will receive a one-of-a-kind trophy and their recipe will be featured at Kellogg's NYC Café and on KelloggsNYC.com to be recreated anywhere. 
"I'm excited to see what yummy treats folks come up with for the holidays with these great, iconic Kellogg's cereals," said Lakshmi. "In my own recipes, I've often used Rice Krispies and Corn Flakes in both savory and sweet dishes. They're perfect for fun in the kitchen with the whole family."
Last year Kellogg opened its cereal cafe concept in New York as part of a larger trend of CPG companies marketing their products directly to consumers.
The Kellogg Cafe at 31 E. 17th St. is a 5,000-square-foot space boasting a cereal-inspired menu, with a few fan favorites.