Kroger is going cashier-less
Get great content like this right in your inbox.
Subscribe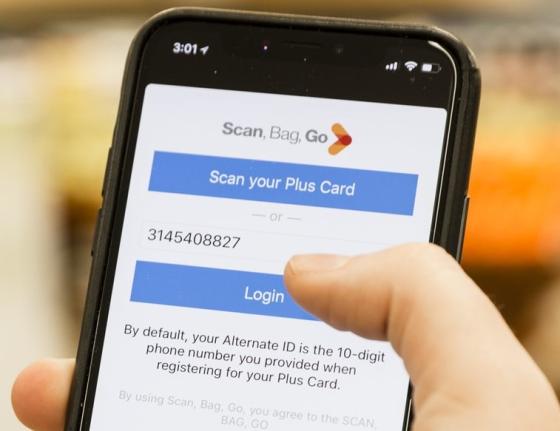 Kroger Co. is not only expanding its scan-as-you-shop technology, but it's also going to allow shoppers to skip checkout altogether and pay through an app.
The grocery chain announced it will introduce its Scan, Bag, Go shopping technology in 18 operating divisions, making the service available this year to customers at 400 stores. Scan, Bag, Go customers currently visit a store's self-checkout area to provide payment. Customers will soon have the ability to provide payment directly through the app, allowing shoppers to exit the store even quicker.
Last week Amazon opened its automated Amazon Go grocery store in Seattle to the public, replacing cashiers with a smartphone app and hundreds of small cameras that track purchases. For the past year, the 1,800-square foot mini-mart had been open to the company's employees.
"With every new product, service and technology integration, Kroger is redefining the customer experience and reimagining the store of the future," said Chris Hjelm, Kroger's executive vice president and chief information officer. "After testing Scan, Bag, Go in several locations, we are bringing this transformative technology to new stores across the country through Restock Kroger."
Kroger's in-house research and development team invented and built the Scan, Bag, Go technology. Scan, Bag, Go allows customers to use a wireless handheld scanner or the Scan, Bag, Go app on their personal device to scan and bag products as they shop for a quicker, seamless checkout experience.
Scan, Bag, Go helps to create a personalized experience for customers throughout their shopping trip, allowing them to view and download digital coupons, keep a running total of their order, and view the current week's sales ad.
"Many of our customers have adopted this convenient new technology and responded favorably to the seamless checkout experience," Hjelm added. "Scan, Bag, Go is one more choice, like ClickList, that Kroger provides so customers can choose when and how they want to shop with us."
By the end of the year, Scan, Bag, Go will be available at select locations in the following divisions: Atlanta; Central; Cincinnati; Columbus; Dallas; Delta; Dillons; Fred Meyer; Fry's; Houston; King Soopers; Louisville; Michigan; Mid-Atlantic; Nashville; Ralphs; Smith's; and QFC.
"The installation of Scan, Bag, Go is a collaboration between the Kroger operations and tech teams that allows us to accelerate the adoption of new technologies in our stores," said Mary Ellen Adcock, Kroger's group vice president of retail operations. "We are always excited to execute innovative ideas that benefit our customers' shopping experiences."
Scan, Bag, Go will be offered as an option alongside traditional checkout lanes staffed by friendly associates, self-checkout, online ordering, curbside pickup, and home delivery in select cities.
Kroger operates 2,793 retail food stores under a variety of local banner names in 35 states and the District of Columbia.