Kroger launches home delivery platform, expands assortment
Get great content like this right in your inbox.
Subscribe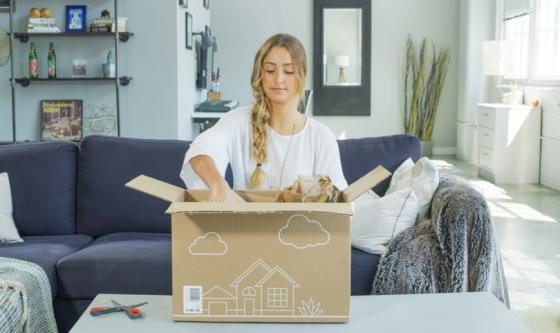 Kroger Ship is the name of a new direct-to-customer e-commerce platform the retailer has launched in Cincinnati, Houston, Louisville and Nashville ahead of a rapid rollout to additional markets. The service features 4,500 of Kroger's own brand products and more than 50,000 other center store and household essential products, including some not available in Kroger stores.  The company said it anticipates quickly rolling out the service to additional markets over the next few months.
"Kroger Ship is our next step in creating a seamless experience that allows our customers to shop when and how they want," said Yael Cosset, Kroger's chief digital officer. "Our new service is just one more way we are redefining the customer experience as part of Restock Kroger, bringing more convenience and options to shoppers across America. Kroger Ship complements and joins our 2,800 grocery stores, 1,250 curbside pickup locations, and delivery service from 1,200 locations."
The expanded assortment available for home delivery was influenced by leveraging information from Kroger's in-house data and insights group known as 84.51°.
"Kroger's e-commerce platform expands our offering beyond the physical store to include even more products," Cosset said. "Along with staples and customer favorites, Kroger Ship will carry bulk and additional sizes, and focus on Our Brands, local and international food and flavors, specialty items, and health and wellness products – making it easier than ever before to be your family's hero at mealtime, or anytime."
The service is said to offer competitive e-commerce pricing, fast and free delivery on orders over $35, otherwise shipping is $4.99 per order. Plans also call for users of the Ship service to receive exclusive promotions and an available subscription option to replenish common items on a set schedule. To generate trial usage, Kroger is waiving the minimum order requirement for free shipping and also offering a 15% discount, one-time promotion.
"Kroger is building on our expansive logistics and fulfillment infrastructure to support the rapid rollout of Ship," said Frank Bruni, vice president of supply chain and procurement. "With the support of Our Brands, and Kroger's manufacturers and suppliers, our vision is to build a seamless e-commerce system that offers our customers an ever-growing number of products and allows Kroger to ship nationwide, serving America through food inspiration and uplift."
Initially, Kroger Ship orders will be fulfilled directly from two existing fulfillment centers in Nevada and North Carolina with a third coming online in Kentucky this fall, according to the company, with other facilities added as Kroger Ship volumes grow. Deliveries will be as fast as next day for many customers with orders deliverd by the likes of FedEx and USPS and regional carriers in certain parts of the country.