Lowe's strategy for winning tech talent battle
Get great content like this right in your inbox.
Subscribe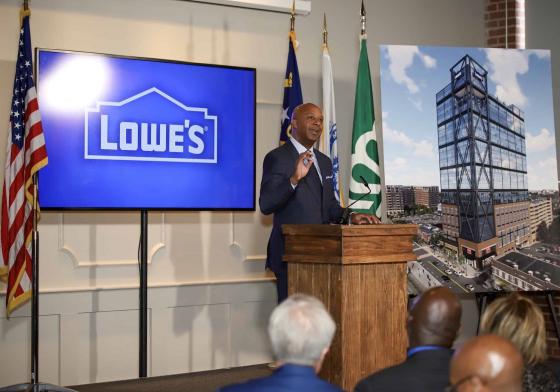 Lowe's new advertising slogan may be "do it right for less," but the company isn't heeding that advice when it comes to its technology transformation.
Lowe's President and CEO Marvin Ellison has committed the company to spending $500 million annually through 2021 on its technology transformation, including modernizing its IT systems and building future retail experiences. There's nothing "less" about that level of funding.
To facilitate the future-building work, Ellison, Lowe's employees and a host of dignitaries gathered for the unveiling of a dedicated technology center that Lowe's is building on the edge of downtown Charlotte. The new building called the Design Center Tower, will be located at 100 W. Worthington Ave. in Charlotte's Design District. Lowe's tech center will occupy 15 upper floors in the 23-story building and encompass 357,000-sq.-ft., enough room for 2,000 employees. Construction is set to begin next month with Lowe's moving in by late 2021. Until the new space is ready, Lowe's plans to occupy a 200,000-sq.-ft. space in an area called uptown Charlotte.
"We're excited to stand up our new global technology center here in North Carolina to continue to drive our company's growth," said Ellison. "Locating our new facility in the heart of Charlotte, the state's largest metropolitan area, will enable Lowe's to attract top technology talent and foster collaboration with our teams in our nearby Mooresville headquarters. This team will create technology solutions that will accelerate our commitment to becoming a best-in-class, omnichannel retailer and strengthen our associate and customer experiences."
Lowe's said it expects to fill the first 400 new tech positions in the next year and plans to begin hiring for these roles immediately. The acceleration of hiring through the tech center – combined with the skills of more than 3,300 existing tech specialists – will help Lowe's meet the needs of customers across every channel it serves, whenever and wherever they choose to engage, according to the company. Lowe's said it will maintain technology teams in existing locations of including Kirkland, Wash., Bangalore, India and its Mooresville headquarters.