Magazine Issues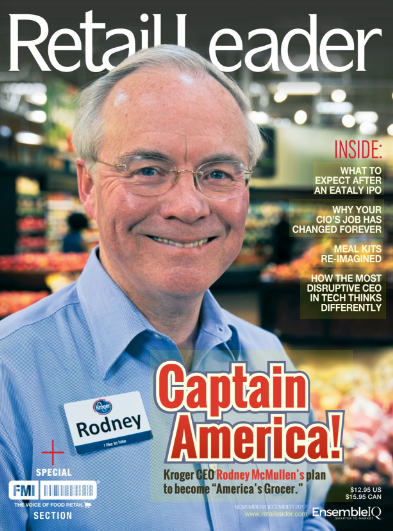 Browse Issue Online | View Digital Edition
THE LANGUAGE OF RETAIL. The jargon-filled technology world outdid itself in 2017.
WINNING WITH EXPERIENCE. Eataly offers retailers timely lessons in the power of presentation.
THE DATA DIFFERENCE. Market Track CEO Dennis Moore and InfoScout CEO Jared Schrieber talk about what's next for retail.
A NEW BREED OF CIO.  Heightened expectations of CIOs mean some may not be re-hired if they applied for their current position today.
TOP TECH TRENDS FOR 2018. Retailers should get ready to learn about digital twins, mixed reality and blockchain.
THE NEXT BEST THING. We are at the leading edge of an era in which tech will change the way retailers and brands engage with consumers.
WHAT IS A MEAL KIT ANYWAY? 2018 promises to be a shakeout year for the meal kit category.
CAPTAIN AMERICA! Kroger CEO Rodney McMullen's plan to become America's grocer.
DELIVERING AUTOMATION. UPS has big ideas about how it wants to be regarded as an innovative technology company focused on disruption.
PLATFORM FOR PROGRESS. Salesforce Founder CEO Marc Benioff has unconventional advice for retailers and CPG companies on their transformation journey.
DIGITAL'S PROMISE. Leveraging data and insights to achieve personalization and growth at Kroger.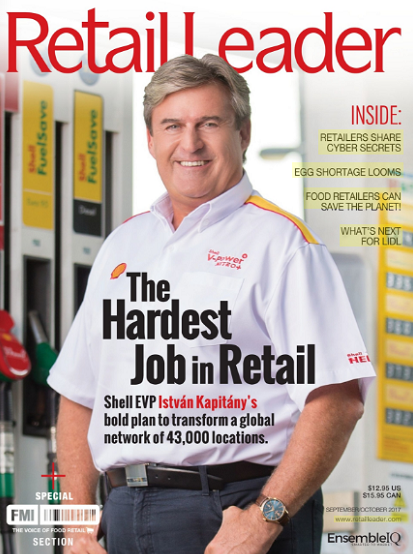 SEPTEMBER/OCTOBER 2017 Issue
Browse Issue Online | View Digital Edition
WINNING WITH STRUCTURE. As autumn arrives, the season of change is at hand for the retail industry.
A COMMON ENEMY. The battle against climate change is providing retailers with a competitive advantage.
FRESH GROWTH. Fresh Thyme Farmers Market has the backing of Meijer and new capacity in place to drive growth.
GOING GLOBAL AND LOCAL. Multiculturalism has changed the American palate and created growth potential for retailers.
LIDL GETS PHYSICAL. The German chain is looking to disrupt retail with a brick-and-mortar approach.
COVER STORY. Shell EVP István Kapitány's bold plan to transform a global network of 43,000 locations.
THE AUTONOMOUS ASSOCIATE. A robot revolution is coming to retail.
CYBER SECRET WEAPON. Retailers are better equipped than ever to defend themselves against digital bad actors. 
CARGO IS KING.  Retail supply chains in the central U.S. will be reshaped by a new intermodal facility in Louisiana.
CAGE-FREE CONUNDRUM. Retailers' commitments represent the ultimate chicken or egg scenario.
JULY/AUGUST 2017 Issue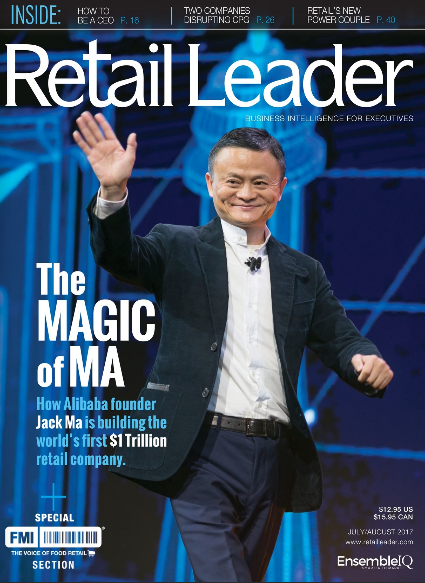 WHAT'S WRONG WITH STORES? Operators of physical stores only have themselves to blame for new attacks from retail's disruptor class.
THE NEW BEAUTY LEADERS. The beauty category is hot and three companies are leading the way. RL profiles Ulta, Sephora and Bluemercury.
HOW TO BE A CEO. A landmark study highlights the essential traits required of senior executives with corner office aspirations.
OMNICHANNEL APPREHENSION. Executing an omnichannel strategy is costly, challenging and mission critical — and no one has perfected the process.
ENABLING THE FUTURE OF FULFILLMENT. Retailers and suppliers have new allies in innovative packaging.
MAXIMIZING VALUE. The breakneck pace of change is creating an M&A dynamic.
DISRUPTING THE DINOSAURS. Two CPG startups with unconventional business models show why retailers and big brands have more to worry about than Amazon and Lidl.
ALIBABA's JACK MA. Alibaba founder Jack Ma is a brand builder and free trade advocate eager to help U.S. retailers and suppliers grow.
WINNING THE STORE. AB InBev has a new JBP process and category management approach to help retailers win with beer.
BEYOND CATEGORY MANAGEMENT. Positioning your organization for the shopper of the future.
Summer 2017 Issue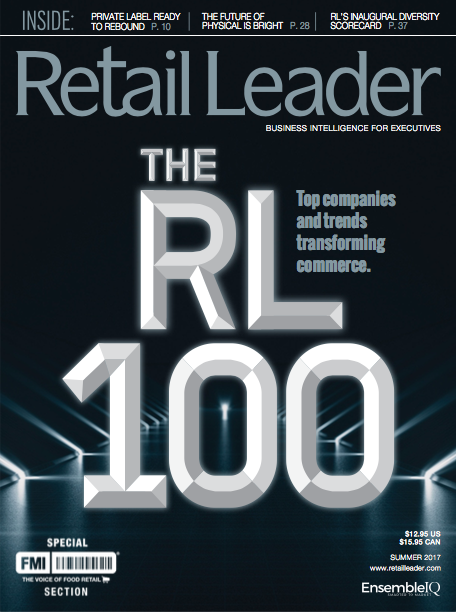 COVER STORY: The RL100. Top companies and trends transforming commerce.
LETTER FROM THE EDITOR: INNOVATION OBSESSION.
POWERED BY PRODUCE. Sprouts' aggressive expansion plans
READY TO REBOUND. A host of factors are forecast to restore private brand growth.
A MULTICULTURAL MOMENT. How ethnic supermarkets are winning 
WHO PAYS BEST. A new study from researchers at Rutgers 
PERCEPTION AND REALITY. Headlines about the demise of physical retail have become common, but the 37,000 people who gathered in Las Vegas in May see things differently.
BEYOND THE SMARTPHONE. Tech industry innovators are reimagining mobile and envisioning a hands-free future.
DYNAMIC PRICING DE-MYSTIFIED. Controversial and misunderstood, dynamic pricing is here to stay and guess what? Shoppers don't mind.
SOCIAL RESPONSIBILITY DIVERSITY SCORECARD. Target, Kroger and Walmart outperform peers, while Costco, Amazon and Albertsons lag.
STRATEGY: CATMAN 2025: VISIONS FOR THE FUTURE. The category management framework that revolutionized retail two decades ago is adjusting to new marketplace dynamics and huge increases in data volumes.
WHAT'S NEXT: CANNABIS BECOMES A CATEGORY
May/June 2017 Issue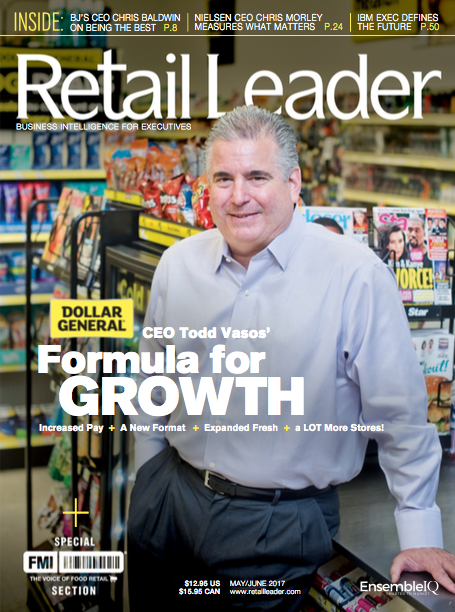 COVER STORY DOLLAR GENERAL. CEO Todd Vasos' formula for growth.
LETTER FROM THE EDITOR DAY 1 FOR CPG RETAILERS. Good ideas can be found in any corner of the business world, but two companies stand out as sources of inspiration.
IN FOCUS: BJ'S WHOLESALE CLUB. The retailer has positioned itself for growth with the backing of private equity owners and the leadership of CEO Chris Baldwin.
WORKPLACE IMPROVEMENTS. Retailers are giving an inch to get a lot in return from happier workers.
SOLVING THE PHYSICAL/DIGITAL RIDDLE. Nielsen President Chris Morley discusses global trends, changes in the U.S. retail landscape and how to make sense of it all.
THE NEW TRADE MARKETING MODEL. Changing shopper behaviors and a challenging growth environment have ushered in a new era for trade marketing.
SURVIVING TRUMP. America's retailers are no fans of regulations, like the president, except when it comes to food safety and their reputation.
EXPECTING THE UNEXPECTED. Retail Leader gathered industry executives in Washington, D.C., for a first-of-its-kind roundtable luncheon around President Trump's 100th day in office.
IBM'S ANSWER MAN. Darin Archer talks innovation, artificial intelligence, cognitive technologies and what's new with IBM's Watson.
THE DIGITAL FIRST FUTURE. Two technology trends will revolutionize grocery shopping during the next five years.
March/April 2017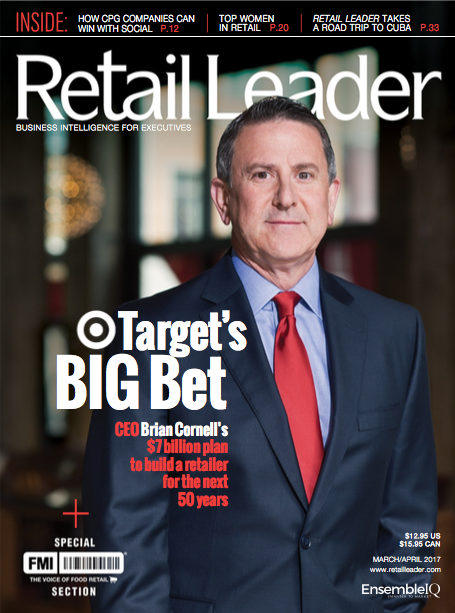 COVER STORY: TARGET'S BIG BET Brian Cornell's $7 billion plan to reinvent the retailer.
LETTER FROM THE EDITOR: THE R-TECH ERA BEGINS There's a new tech in town. Retailers embrace (R)Tech.
YEAR OF THE MEGA-DEAL With three big deals in the books, 2017 is setting up to be a record breaker.
DIGITAL DONE RIGHT Ample rewards await brands able to navigate complexities of the rapidly evolving digital landscape.
FINDING A WAY FORWARD E-commerce angst is pervasive among retailers who know they should be doing more, but aren't sure what.
TOP WOMEN IN RETAIL: WOMEN TO WATCH Our annual look at top industry executives from the retailer, supplier and service provider worlds.
ISLAND OF OPPORTUNITY What retailers need to know about Cuba.
CLICK & COLLECT The new normal for retailers.
RISE OF THE CHATBOTS Retailers embrace conversational commerce.
NOT IF, BUT WHEN Declining consumption and emerging technologies ready to rock food retailing.
Older Issues