06/13/2018
Not your mother's JOANN Fabric and Craft Stores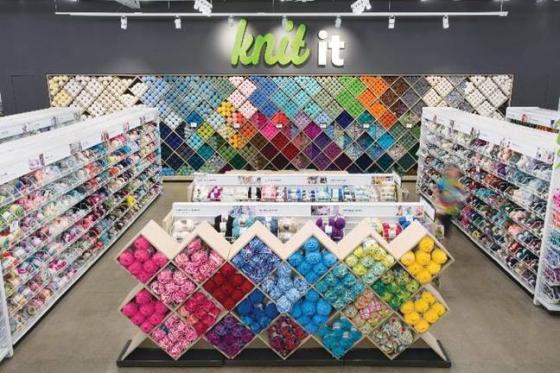 The nation's leading craft and fabric retailer is reimagining the craft and fabric shopping experience at its first-ever concept store in Columbus, Ohio.
The new JOANN store in Columbus brings together a reimagined shopping experience that features cutting-edge technology, dedicated community and learning spaces as well as new custom services.
Highlights from the new concept store include:
●      The Creators' Studio, a large open community space where customers can take classes, host events and rent machines to work on projects inspired by the latest Pinterest trends while enjoying a cup of coffee
●      Modernized Cut Bar experience, which allows customers to "check in" and continue shopping until a text message alerts them a Team Member is ready to cut their fabric
●      First-ever Craft Creator touchscreen kiosk, which provides popular Pinterest craft projects personalized for customers based on their taste preferences
●      Two different concierge services – the first is Sew & Go, a custom sewing service for anything from suit tailoring to home décor. The second is Personal Shopper, which offers one-on-one guidance to ensure the shopper's vision comes to life
JOANN has been busy this year taking steps to improve its offering to shoppers. 
Earlier this year the company launched JOANN+, a program for businesses, organizations and crafty entrepreneurs.
"Our customers have been making to sell, donate and give at scale since the first JOANN store opened in 1943," said Steve Miller, SVP of Marketing and eCommerce at JOANN. "This year, we've launched JOANN+ to better serve their unique needs by offering bulk ordering and shipping options, dedicated customer service and sales teams, rebates and financing plans, industry-leading pricing, and more. We're confident JOANN+ will help organizations, businesses and individual sellers to keep creativity flowing smoothly and even more affordably."
In addition to upfront cost-savings, JOANN+ members can earn a 5 percent rebate each quarter. The program is also designed to serve large businesses with unique needs, allowing customers to custom create items through a dedicated sales and product development team.
"This program is all about making sure people who love to make things are able to create in the easiest, most efficient and cost-effective way possible," Miller said. "We've heard the needs of our customers who are constantly creating, and we'll continue to look for ways to serve them better."
Along with the JOANN+ program, the craft retailer has also recently launched partnerships with organizations including Girl Scouts of the USA, National 4-H Council and others.