Radical Thinking Required
Get great content like this right in your inbox.
Subscribe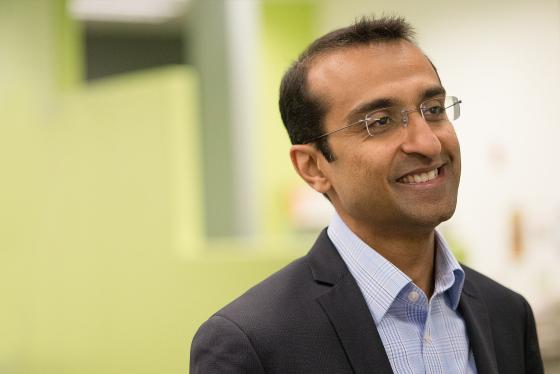 The thing about executives with solution provider companies is their view of what it takes to be successful in the future invariably involves using services like those offered by their company.
The same could be said of Quotient CEO Mir Aamir, with one important distinction. When he describes the increasingly important role of data driven personalization in the world of shopper marketing, a space where Quotient leads, his views are substantiated by a career that began in the consulting, CPG and retail world.
From Aamir's vantage point in Silicon Valley, he sees retailers and brands operating in an intensely competitive, multi-dimensional environment where the winners will be those able to move fastest to capitalize on emerging digital capabilities.
"The opportunity is significant for retailers and CPGs to truly transform themselves. They have been thinking about it and talking about it for some time, but the sense of urgency went up several notches in 2017," Aamir said.
To capitalize on that opportunity, Aamir is challenging those at Quotient, retailers and CPGs to think more radically and bigger picture about the future. He knows that for many companies that means exercising new muscles.
"We think hard about what this industry is going to look like five years from now and work backwards. We have to think really outside of the box, which the CPG industry has historically not done," Aamir said.
His view is shaped by a non-traditional career trajectory that gave Aamir a broad and global perspective on the retail and CPG world and eventually landed him in Silicon Valley. The native of Pakistan earned an MBA in Karachi, took a position with Procter & Gamble leading product launches in Asia, came to the U.S. to earn an MBA at the University of Chicago and then began a career in consulting with A.T. Kearney. He became a retailer at the urging of Target Chairman and CEO Brian Cornell, who held a leadership position with Safeway when Aamir came calling in 2005.
"I thought I was going to sell him a consulting project and he sold me on coming to work for Safeway," Aamir said.
During his time at Safeway, Aamir led the creation of the retailer's innovative Just For You digital promotion initiative and that gave him exposure to Coupons.com, as Quotient was known at the time. He joined the digital promotions solutions provider as President, COO and CFO in 2013, led the rebranding of the company in 2015 and last year's acquisition of Crisp Mobile, a provider of interactive mobile advertising solutions. Aamir was named CEO of Quotient in September 2017 to lead the company's growth in what is expected to be a nearly $20 billion shopper marketing market.
The core of shopper marketing today, according to Aamir, is data and one-to-one communication, a field with enormous possibilities still in the early stages. Consider the weekly print circular long relied on to push offers in front of consumers. The vehicle plays a role in communicating a value proposition, but it is incredibly inefficient.
"It is a push vehicle that is in your face, in your home, but it is just getting harder and harder for it to pay out and it has always been hard to measure," Aamir said. "The reason they haven't gone away is because the digital innovation needed to make them go away is not in market yet."
Quotient offers an intermediary approach that allows retailers a degree of personalization with the first two pages worth of offers tailored to the individual. While an improvement over the one-size-fits all print circular, the bigger breakthrough in personalization will come this year with a personalization initiative that pushes the two or three things most relevant on a particular day or week to an individual to appear in an interactive ad on Facebook or Pinterest, completely customized, relevant and done at scale, according to Aamir.
Another dimension of innovation Aamir sees coming relates to the psychology of planning a grocery purchase. He contends digital shopping apps have not caught on in a big way because most require typing information.
"In the future, you will say things or take pictures of stuff. That is the future of shopping planning," Aamir said. "A platform will take in all the information to develop a list and link to all available coupons and offers."
To make it happen, CPGs will leverage their strengths in branding and marketing and work with retailers who leverage their strengths with shoppers and data to reach consumers one-to-one.
"The ones that do it right will survive and succeed in a market that is being redefined by the likes of Amazon," Aamir said.