This is Sears' last attempt to avoid liquidation
Get great content like this right in your inbox.
Subscribe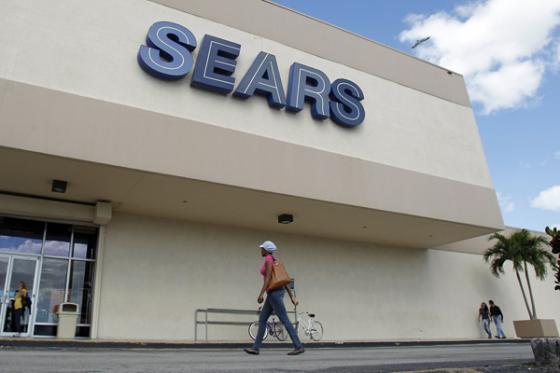 Former Sears Chief Executive Officer, Eddie Lampert gave 1,000 of his employees a rallying cry as the company gears up for its most vital holiday season yet, according to CNBC.
"We need to show material progress over the next few months to establish to our senior lenders that a reorganization of the company is realistic and to avoid a shut down and liquidation," Lampert said at the retailer's headquarters in Hoffman Estates, Illinois, according an exclusive transcript obtained by CNBC.
The retailer filed for bankruptcy Monday morning saddled by debt and declining sales. Under chapter 11 protection it is closing unprofitable stores and will try to sell roughly 400 of its better performing stores as it looks to stay alive.
Related: Christmas comes early for Sears Holding Competitors
The prospects of Sears and Kmart having a great holiday season weren't high to begin with since both brands have been losing market share and closing stores for the past decade. With the bankruptcy filing coming ahead of the holiday season, an even larger volume of market share than the company was likely to lose anyway is up for grabs. Sears Holdings ended its most recent fiscal year on Feb. 3 with revenues of $16.7 billion, down from roughly $22 billion the prior year, with the decline attributable to store closings and further deterioration of same store sales.
What form Sears Holdings and its assets take in the future are unclear for a number of reasons. The company's former CEO Edward Lampert (he resigned in conjunction with the filing) is also the company's largest shareholder through ESL Investments. In a separate statement he indicated Chapter 11 was not the route he preferred and has proposed acquiring an undisclosed number of stores.
"ESL put forward proposals in April and August to acquire certain Sears assets, followed by a comprehensive proposal in September for liability management transactions, strategic asset sales (including those assets that ESL had made proposals to purchase) and real estate transactions," the company said in a statement. "All the proposals had the goal of providing liquidity and runway for a transformation. While a comprehensive out-of-court resolution was ESL's preferred approach, it did not prove possible to achieve this outside the framework of a Chapter 11 process. ESL believes that supervision by a judge will enable creditors to address any issue among them according to a clear set of rules and permit the sale of certain assets through a court-approved auction process to maximize value."
Related: Sears still 'fighting to survive'
"When Sears and Kmart merged in 2005, I envisioned a company that would be different and relevant for the 21st century. ... These were two, iconic companies that had lost their way," Lampert said, adding he had seen an opportunity in transforming the two together as a different kind of retailer.
"As we all know, we haven't capitalized on this opportunity the way I would have liked," he later added. "Instead of growth and investment we have faced retrenchment and restructuring."
Sears hasn't turned a profit since 2010, limiting its ability to invest in the company and for the future. It's faced bigger competition from better capitalized competitors like Walmart and Target, while also combating the rise of online shopping. Its 140,000-square-foot stores have begun to seem monstrous as foot traffic has dropped, according to CNBC.
"There were mistakes along the way, for which I take responsibility. Those failures have affected me in many ways far greater than any successes I have had," Lampert said.
The company has more than 68,000 employees, according to bankruptcy documents filed Monday.
To read the full CNBC article, click here.