Shopping at Whole Foods is now much cheaper
Get great content like this right in your inbox.
Subscribe
Amazon may have just come up with a way to lure online shoppers back to physical stores: discounts.
The company is rolling out a 10 percent discount at Whole Foods Market for Prime members. The retailer is launching the new discount program in all stores across Florida and says it plans to expand the discount to all Whole Foods Market and Whole Foods Market 365 stores nationwide starting this summer.
A visit to the Whole Foods in South Tampa, Fla., on Wednesday revealed a Prime promotional blitz, with plentiful signage throughout the store (photos below) pointing to discounted items.
"With the announcement of new Prime member discounts at Whole Foods, Amazon continues to infiltrate the grocery space," said Sylvain Perrier, president and CEO, Mercatus. "Now with Amazon, and new entrants on the low-end like the Aldi's and Lidl's, along with Dollar General investing in grocery, the pressure for a share a shrinking middle-class pie will get much tougher. What options do traditional grocers have but to reinvent where they play and how they do business. Smart retailers will figure this out, but they don't have a lot of time."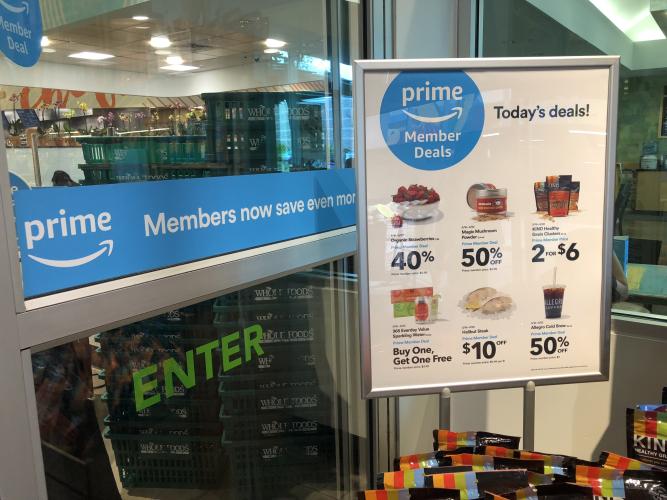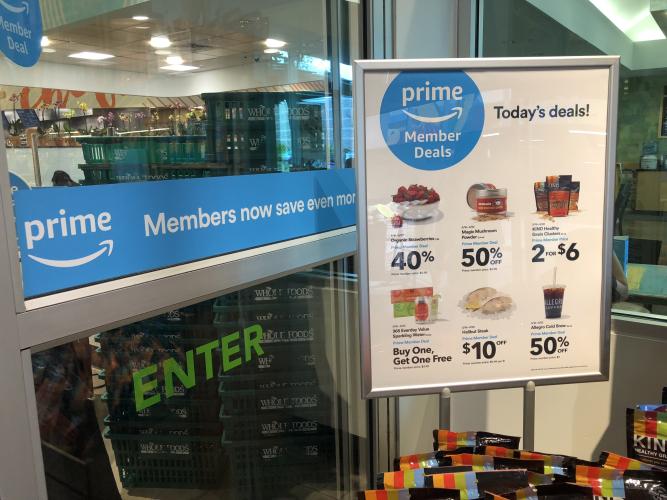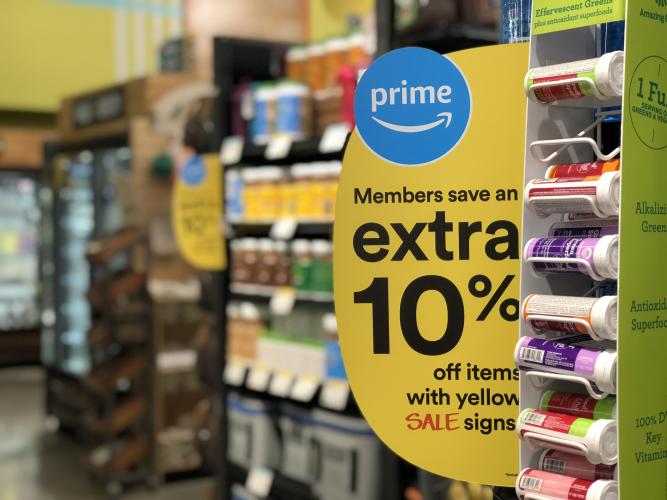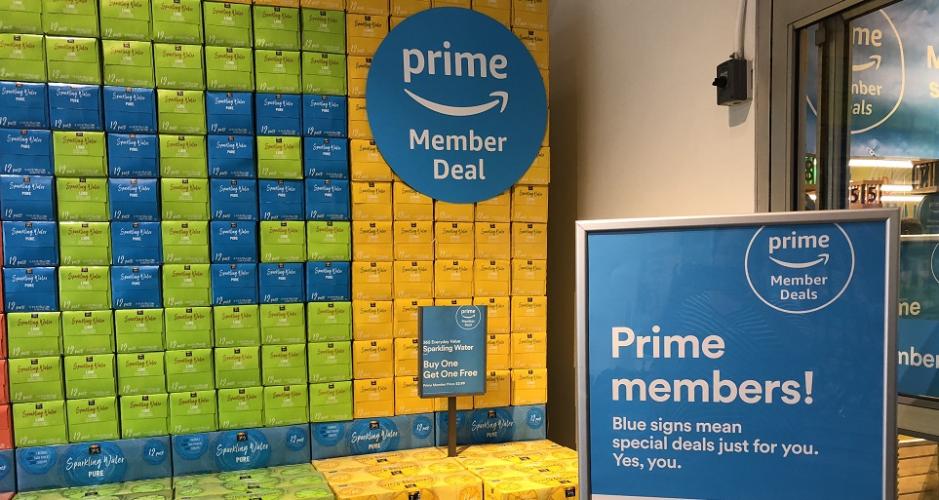 Amazon is wise to launch this initiative in a market such as Florida.
The retailer needs to understand how the discount will impact sales and the capabilities of its supply chain. If demand for key sale items exceeds Whole Foods' ability to replenish, it will be left with out-of-stocks and will disappoint the Prime members it aims to delight with the new benefit.
Lessons learned in Florida will improve demand forecasts for featured items and product allocation ahead of a nationwide rollout, especially since Amazon knows the address and purchase history of every Prime member.
Amazon says while Prime deals will be prominently featured in-store as shown above, customers can also go to the Whole Foods Market app to learn about many of the best offers each week. 
"We're thrilled for Whole Foods Market to be part of the Prime experience," said John Mackey, Co-founder and CEO of Whole Foods Market. "By offering greater discounts on sale items, and exclusive deals like $10 off a pound for sustainably-sourced, wild-caught halibut, launching savings for Prime members is an amazing opportunity to bring our industry-leading quality standards and delicious food to more customers at a better price."
This is the latest benefit for Prime members shopping Whole Foods Market.
Earlier this year, the companies launched free two-hour delivery on Whole Foods Market groceries through Prime Now in 10 cities, with more to come in 2018. Eligible Prime members also receive 5% Back on Whole Foods Market purchases when using the Amazon Prime Rewards Visa Card.
"This new Prime benefit at Whole Foods Market is a perfect pairing of healthy and delicious food at even more affordable prices," said Cem Sibay, Vice President, Amazon Prime. "Our vision is that every day Prime makes your life better, easier and more fun, and shopping at Whole Foods Market with exclusive deals and savings is all of this and more."
Amazon and Whole Foods Market have reduced prices on hundreds of grocery staples and fresh foods, including: responsibly-farmed salmon, raw shrimp and tilapia; organic baby kale and organic broccoli; animal welfare-rated lean ground beef; and organic and no-antibiotic, boneless skinless chicken breasts.
And shopping at Whole Foods Market is more convenient with Amazon Lockers, where customers can pick up and return eligible Amazon purchases at nearly 400 Whole Foods Market stores nationwide. Plus, customers can now shop for Amazon devices, such as Echo and Fire TV, while grabbing groceries at select stores.
To get the Prime discount, customers must download the Whole Foods Market app, sign in with their Amazon account and then scan the app's Prime Code at checkout. Or, customers can opt in to use their phone number to save at checkout. 
Whole Foods Market has over 470 stores in the United States, Canada and United Kingdom.