05/17/2018
Is there anything Walmart can't do?
Walmart keeps achieving impressive growth in physical sales, digital sales, earnings and profit despite myriad competitive and operational pressures.
The mega retailer's first quarter results prove that shoppers are continuing to flood Walmart's stores and websites.
Same store sales at Walmart rose 2.1 percent excluding fuel. Walmart has recorded nearly four straight years of U.S. growth, unmatched by any other retailer. Walmart's expansion of grocery delivery and curbside pickup contributed to same-store sales gains, Walmart said. 
Customer traffic was 0.8-percent higher during the quarter, slower than the 1.5 percent growth during the same period a year ago. A long winter hurt demand in weather-related categories and led customers to consolidate trips, Walmart said.
Walmart's e-commerce sales grew 33 percent during the first quarter ended April 30, above the 23 percent growth in the previous three months. The company said it is on track to increase U.S. e-commerce sales by 40 percent for the full year.
"We delivered a solid first quarter, and we're encouraged by the continued momentum across the business. We're transforming to better serve customers. We are changing from within to be faster and more digital, while shaping our portfolio of businesses for the future. Our strong cash flow and balance sheet provide flexibility to do so. I want to thank our associates and our leadership team for the choices they're making, their strong sense of urgency and the actions they're taking. Our people make the difference, and I'm proud to work with them," said Doug McMillon President and CEO, Walmart.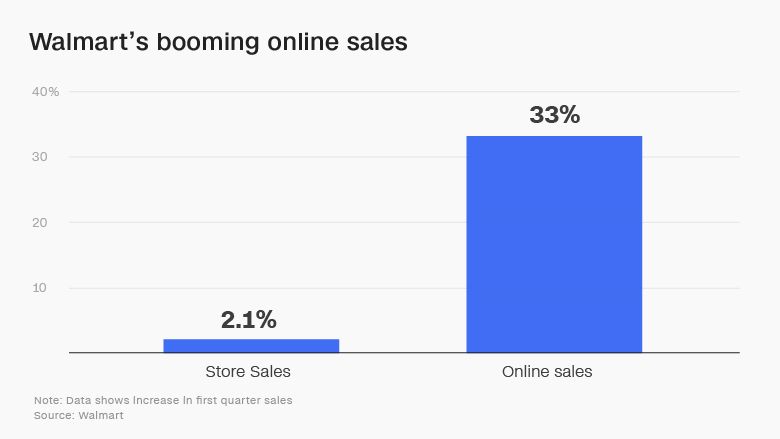 The e-commerce rebound comes after a slowdown during the holiday quarter.
"Online grocery continued to accelerate and we also have new brands in e-commerce including the partnership with Lord and Taylor, so there are a lot of different things driving growth there," Chief Financial Officer Brett Biggs told Reuters. He said free two-day shipping boosted growth, and the Walmart.com site redesign helped late in the quarter.
International sales were up 4.5 percent at $28.3 billion on a constant currency basis, helped by an early Easter, Biggs said.
The company is in the process of repositioning its international business portfolio and recently said it will acquire a majority stake in Indian e-commerce firm Flipkart for $16 billion, its largest deal ever. It also plans to sell a majority stake in its UK grocery chain Asda Group Ltd to J Sainsbury PLC.
Walmart also recently reached agreements to sell its banking operations in Walmart Canada and Walmart Chile, it announced on Thursday.
Total revenue at Walmart increased 4.4 percent to $122.7 billion, beating analysts' estimates of $120.5 billion. Excluding special items, adjusted earnings were $1.14 per share.