10/13/2017
Trader Joe's expansion slowed in 2017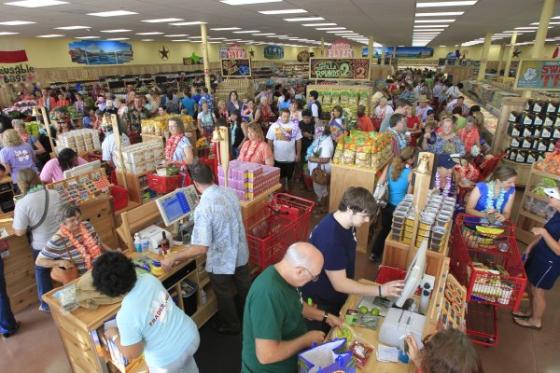 Trader Joe's, now in its 50th year of operation, added 14 new locations in 2017 and could achieve a significant milestone in 2018.
Trader Joe's in October opened new stores in Allston, MA; Kalamazoo, MI and North Brunswick, NJ to complete its 2017 expansion plan. A total of 14 new locations were added during the year, which is well below the company's recent expansion pace which saw an average of 23 new locations added annually for the past 10 years. Prior to the October openings, new stores were added in San Francisco, San Diego, Los Angeles, San Juan Capistrano and West Hollywood, CA; Hoboken, NJ; Las Vegas; Brooklyn; Somerville, MA; Washington, DC; Coralville, IA and Jacksonville, FL.
"A lot goes into bringing a new Trader Joe's store to a neighborhood," Trader Joe's spokesperson Kenya Friend-Daniel said in a prepared statement. "Aside from the logistics we want to be sure we have the right space and crew members who are engaged and passionate, not just about Trader Joe's, food and earning the delight of our customers, but also in their lives outside of work. We continue to find the best of the best."
The best it seems are often located in California where Trader Joe's first store opened in 1967. The 2017 addition of five new California locations gives the retailer more than 180 locations in the Golden State out of a total of 474 locations in 41 states nationwide.
If Trader Joe's slightly accelerates its recent pace of expansion by late 2018 the company could be observing the opening of its 500th location. That could give the company a reason to celebrate just as it did recently when the company observed its 50th anniversary with a promotion involving product sampling and giveways. The result was a 10% increase in customer traffic from the prior year, according to the company. It did not disclose the sales lift.
"Our customers are the reason we are still here, 50 years later, continuing to grow and make a difference in the neighborhoods we serve," said Friend-Daniel. "That is why our focus is, and always has been, on providing them with the best and most unique products at great prices, as well as a fun and engaging experience, every time they shop at one of our stores. It's just that simple."