A very merry Christmas for Costco
Get great content like this right in your inbox.
Subscribe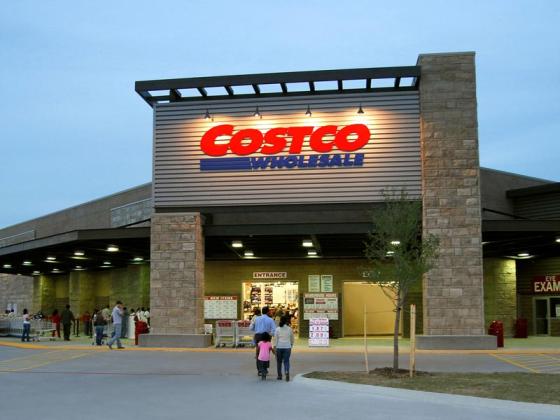 Costco reported an impressive 8.7% jump in U.S. same store sales and a 17% boost in profit in the first quarter, showcasing the strength of its unique business model against increasing competition.
For the first quarter ended Nov. 26, Costco said it earned $640 million, or $1.45 per share. That's up 17 percent from $545 million, or $1.24 per share, a year earlier. The warehouse-club operator posted total revenue of $31.81 billion in the period.
Treasure-hunting shoppers globally pushed same store sales up 7.9%, excluding the impacts of fuel. U.S. comps were up 8.7%, while international comps were up 8.2%.
The first quarter included Black Friday sales around Thanksgiving. Last year those sales fell in its fiscal second quarter. Combined, these two factors produced an estimated net benefit to this year's first quarter sales results by an estimated 1.5% in the U.S. and about 1.3% worldwide. But even with this benefit, the retailer's sales growth was impressive.
"We continue to improve our offerings and we continue to improve our member experience with better sales, checkouts and returns processes," Costco Chief Financial Officer Richard Galanti said in an earnings call. "In the quarter, our traffic conversion rates and traffic were up nicely year-over-year and we enjoyed basically stronger metrics for both the Thanksgiving, Black Friday week as well as Cyber Monday."
Possibly the most important number in Costco's report was a 43.5% increase in e-commerce sales year-over year. Galanti said that Costco is experimenting with e-commerce "in its own way" and "pretty cheaply," using experiments like buy online and pick-up in store, which has the added benefit of driving traffic to its warehouses.
"We're now offering a buy online, pickup in store in selected items, including jewelry and some laptop computers. We're seeing people coming into pick them up and over half of them were shopping while they're there. Overall, all these efforts are having a positive impact on our business, both online and in the warehouse, and it results in greater sales momentum that increased awareness of our digital presence. As well as we've done quite a few things online to increase traffic in our warehouses," Galanti added.
In the first week of October, Costco introduced two new delivery options at Costco.com: a dry grocery two-day delivery and same-day fresh delivery through Instacart. Galanti said both efforts have been positive to date while still in the soft openings/limited marketing mode.
Still, roughly 95% of Costco's sales continue to occur in stores, where shopper traffic in the U.S. was up 6.6% in the quarter.
"We think we can use online and emails to drive traffic both ways,'' Galanti said. "We seem to be running on many cylinders here, and the things we're doing are working.'' 
Membership fee revenue jumped 9.8% to $692 million in the quarter, up from $630 million during that period in the previous year. About $24 million of the $62 million increase was due to the membership fee increases, Galanti said.
In June, Costco raised its annual fees for roughly 35 million members in the U.S. and Canada. 
The company did not publish any guidance, but consensus estimates for the company's second fiscal quarter call for EPS of $1.40 on revenues of $32.42 billion. For the full 2018 fiscal year, EPS are expected to come in at $6.46 on revenues of $137.52 billion.
Costco currently operates 746 warehouses, including 518 in the United States and Puerto Rico, 98 in Canada, 37 in Mexico, 28 in the United Kingdom, 26 in Japan, 13 in Korea, 13 in Taiwan, nine in Australia, two in Spain, one in Iceland and one in France. Costco also operates e-commerce web sites in the U.S., Canada, the United Kingdom, Mexico, Korea and Taiwan.