07/17/2018
Walmart rains on Prime Day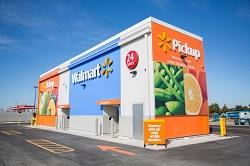 Walmart celebrated Prime Day on Tuesday by making an announcement about a partnership with one of Amazon's biggest rivals.
Walmart announced it has signed a five-year agreement with Microsoft's cloud and artificial intelligence technology, deepening a strategic partnership between two of Amazon's major rivals.
Walmart says that the agreement is designed to leverage the full range of Microsoft's cloud solutions in order to make shopping quicker and easier for customers. The company plans to boost its online presence and progress to compete with Amazon's rapidly growing retail ambitions.
"Walmart is a pioneering retailer, committed to empowering its employees and delivering the best experience for its customers wherever they are," said Satya Nadella, CEO of Microsoft. "The world's leading companies run on our cloud, and I'm thrilled to partner with Walmart to accelerate their digital transformation with Microsoft Azure and Microsoft 365."
Through the partnership, Walmart and Microsoft engineers will work together to migrate a significant portion of Walmart.com and Samsclub.com to Microsoft's Azure, Walmart said. This is done to compete with Amazon's own version of cloud computing: Amazon Web Services, which is designed "to help businesses scale and grow," according to Amazon.
"The battle between Walmart and Amazon has been playing out on all fronts and the cloud is the latest frontier," said Kerry Liu, chief executive of Rubikloud Technologies, which offers artificial intelligence technology services to retailers.
Walmart has been vocal in the past about its suppliers using Amazon Web Services. The company issued a warning in June of last year for tech companies it does business with to leave Amazon's cloud services. Amazon has previously called Walmart's tactics an "attempt to 'bully' tech companies into using competitor's."
"Walmart's commitment to technology is centered around creating incredibly convenient ways for customers to shop and empowering associates to do their best work," Walmart CEO Doug McMillon said in a statement.
Microsoft's cloud storage is not the only tech partnership Walmart has acquired. Beginning in September of last year, Walmart partnered with Google to enable consumer use of the voice-activated Google Assistant platform on phones and home devices. This partnership enables Walmart to challenge Amazon's dominance of the U.S. voice shopping market by offering the largest number of items currently offered by a retailer through the Google Assistant Platform.
Walmart employs more than 1.5 million U.S. associates at more than 5,000 stores and clubs nationwide.