Walmart shoppers can now pay with PayPal funds
Get great content like this right in your inbox.
Subscribe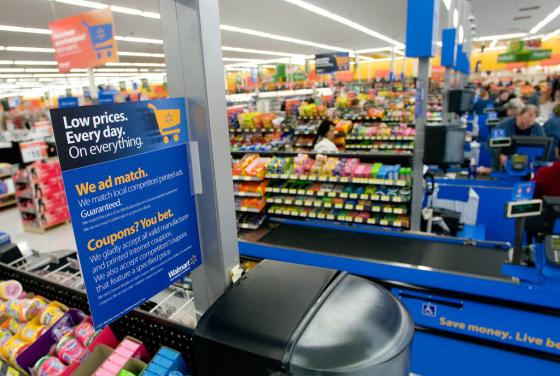 Walmart is teaming up with PayPal in a blockbuster move that will allow shoppers to withdraw and deposit PayPal funds at Walmart stores. 
The PayPal cash in and cash out money services will cost Walmart customers a $3 service fee, the companies say, as will the ability to pull cash out from MasterCard while in store. 
The deal marks the first time that PayPal mobile app users will be able to take cash out from their PayPal balance while in a brick-and-mortar environment, though PayPal several years ago had partnered with retailers like Home Depot for integrations at the register.
"Today's news is the first time our two companies are working together to build products for our shared customers," said Dan Schulman, President and CEO, PayPal. "We consider this a key collaboration for both PayPal and Walmart. We are committed to working together to make it simple and easy for people to use PayPal cash in and cash out money services at every Walmart location in the U.S. We look forward to working hand-and-hand to help people and families with their financial services needs."
PayPal cash is immediately available at Walmart, and PayPal cash out will be available at all Walmart U.S. locations by early November.
"Walmart is committed to expanding access to financial services products that are convenient, easy to use and available for everyday low prices. With 90 percent of Americans living within 10 miles of a Walmart store, we know that offering PayPal cash in and cash out money services for an exclusive low fee is going to provide great value to the many people who rely on Walmart and PayPal to help manage and move their money,"  said Daniel Eckert, Senior Vice President, Walmart Services & Digital Acceleration, Walmart.
Also on Thursday, Walmart announced that it is teaming up with two entertainment companies to create content for Walmart's streaming service Vudu. Walmart is also investing in a joint venture with Eko, a New York start-up that focuses on "interactive storytelling," a video format that allows viewers to control the plot of commercials and television episodes.
Walmart operates more than 11,200 stores under 55 banners in 27 countries and eCommerce websites.