Why Walmart doesn't need more stores
Get great content like this right in your inbox.
Subscribe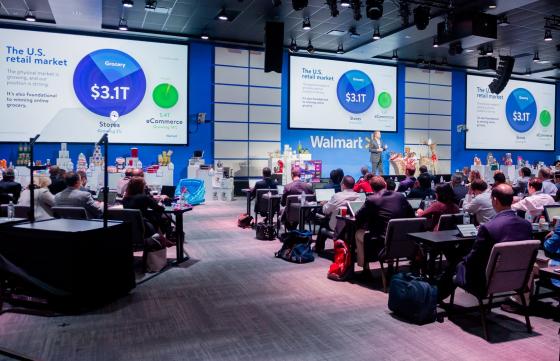 Walmart has entered the alternate universe once reserved for pure-play e-commerce companies whose stock prices moved ever higher the more money they lost because they were building scale. The obvious example is Amazon. For the past decade, investors applied different rules to the company and viewed losses as a good thing because it mean huge investments were being made to build a business that was transforming an entire industry.
Walmart experienced a similar phenomenon on a smaller scale on Oct. 16 when the company held its annual fall investor conference and shared some stunning news. For starters, the company said it would open fewer than 10 U.S. stores in 2019, a remarkable decision considering at its peak the company routinely opened more than 200 supercenters annually.
That pace of expansion made Walmart what it is today, an operators of more than 3,500 supercenters, 800 Neighborhood Market and other small format stores that still has roughly 400 conventional discount stores. Half of the U.S. population shops in one of its stores every week due to low prices on a broad assortment that is located within a few miles of nearly the entire population.
In other words, Walmart doesn't really need any more physical locations, but it does need the stores it has to look better and operate much differently to serve digitally engaged shoppers. That's why instead of building more stores, the company is reallocating capital to fix what it has with its more extensive remodeling program ever.
Walmart's remodeled stores are based on a concept shared with analysts several years ago, but beyond prettier signing, new fixtures and lighting, the big difference going forward is that Walmart is finally embracing its legacy as a supply chain driven company and moving on many fronts to leverage its massive physical footprint. In doing so, President and Chief Executive Officer Doug McMillon is fulfilling a vision his predecessors, Mike Duke and Lee Scott, discussed conceptually going back at least 15 years. What that looks like in practice is the company will offer grocery pick up at 3,100 stores, provide grocery delivery from 1,600 locations by the end of 2019 and roll out large orange pick up towers, currently inside 700 stores, to nearly every location.
Walmart is basically re-inventing convenience for customers and leverage stores as mini-fulfillment centers. The price tag for doing so next year is about $11 billion with very few of those dollars being used to construct new stores. More stores are planned internationally – about 300 – but even that figure is well below prior year levels when Walmart was more about planting flags internationally and expanding its physical presence.
There has been a huge shift in the company's mindset when it comes to acquisitions which these days are more likely to be online brands that serve shoppers not traditionally thought of as Walmart shoppers. The company is also willing to make massive investments where it sees tremendous long term potential. This was best exemplified earlier this year when Walmart announced plans to acquire a 77 percent stake in India's Flipkart for $16 billion. The deal was Walmart's largest ever and made the $3.3 billion acquisition of Jet.com a few years earlier look puny.
The acquisition of the Flipkart stake will create a headwind to Walmart's overall profitability which was highlighted at the meeting. The company now expects reported profits for the current fiscal year ending in late January 2019 to range from $2.65 to $2.80, down from $2.90 to $3.05.
A few years ago and certainly a decade ago, investors would have severely punished Walmart for announcing such a huge reduction in its profit forecast. The world has changed. Companies such as Walmart, and other traditional retailers, are being rewarded for their commitment to staying relevant by making major investments, even when doing so impacts near term profit.
Walmart detailed a host of other initiatives to remain relevant beyond those listed here and the symbolism of the announcements was dramatic, coming just one day after Sears Holdings filed for bankruptcy. At one time, Kmart and Sears were dominant retailers and Walmart was the scrappy upstart. Relentless innovation and a better business model allowed Walmart to overtake Kmart which eventually merged with Sears. The combined organization failed to innovate or invest in modernizing stores, leading to a bankruptcy filing which was a long time coming. Walmart wasn't solely to blame for either companies' demise, but it isn't about to slide into an Amazon-induced oblivion by failing to invest in its business.