Charting a Growth Course
Get great content like this right in your inbox.
Subscribe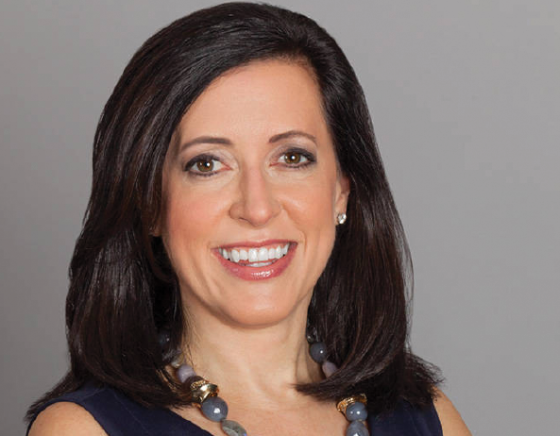 Think running a retailer on land is hard? Then you haven't spent time with Beth Neumann, CEO and President of Starboard Cruise Services, a Miami-based retailer with more than 750 stores located on a global fleet of 90 ships. The former Avon and Kraft executive is overcoming a host of unique operational challenges while simultaneously elevating the shopping experience to win in one of retailing's hottest sectors.
Beth Neumann remembers the last time she took a cruise before becoming CEO and President of Starboard Cruise Services. It was the 1980s and among the highlights of a voyage in those days were midnight buffets, shuffleboard and smoke-filled nightclubs.
"Before I started at Starboard I hadn't been on a cruise in 25 years. But then I walked on a ship for the first time and I thought, 'Wow, they have come a long way.' It's entirely different now," Neumann said.
One of the biggest differences is retail has become a key aspect of the cruise experience on vessels that are the equivalent of floating cities, with some capable of accommodating upwards of 4,000 passengers. Those passengers are on vacation and in the mood to spend money, but convincing them to open their wallets, whether at sea or on land, requires offering a superior customer experience. Where things get tricky for a retailer like Starboard is coping with a wide range of unique operational challenges such as brand and product assortment by ship, how to design a supply chain that has to go through layers of regulation, the size and layout of an on-board store and the level of omnichannel service to provide.
Despite an abundance of challenges associated with creating a retail experience at sea, Neumann and the Starboard crew appear to be deftly managing the complexity while simultaneously pursuing strategies familiar to terrestrial retailers. Starboard is now the leading retailer in the cruise industry and the preferred retailer for 10 cruise line partners, according to Neumann. As the cruise industry continues to expand, she's convinced Starboard is well positioned for further growth thanks to an experiential approach grounded in entertainment, discovery, guest-to-guest connections and exceptional hospitality.
"When I first walked on a cruise ship I thought, 'This is a super powerful way of selling.' And I started hearing the stories of engagements with guests. What we call the 'Starboard Way' is delivering the value proposition of entertainment and social connection in a way that makes people feel special and brings them a memory," Neumann said. "As retail has moved away from just being a transactional thing where people come and just want to buy something, we want to offer an experience in which our teams are connecting for real with customers."
SET SAIL FOR GROWTH
From an organizational standpoint, Neumann is the retail equivalent of the captain of every ship that Starboard operates on. The former vice president for the $3 billion global fashion and home group with Avon, Neumann became CEO of Starboard in 2013. The company was founded in 1958 in Miami as Florida Export Tobacco, selling duty-free items at Miami International Airport. In January 2000, it was purchased for about $300 million by the French luxury goods conglomerate LVMH Moet Hennessy Louis Vuitton.
Today, the company is well positioned to capitalize on continued growth of the cruise industry. Passenger volumes this year are projected to total 28 million, a 10 million passenger increase from just a decade earlier, according to industry trade group Cruise Lines International Association. Starboard is already the largest operator in the space, compared to competitors Harding Retail and Dufry, and by 2020 Neumann said Starboard will operate more than 360,000 square feet of selling space on more than 90 ships offering more than 750 brands.
"What's interesting about this industry is you can predict exactly what the growth is because you know five years out which ships are being built. The cruise lines are doing quite well and for us as a retailer," Neumann said.
Although Starboard does not release financial results, LVMH reported a whopping 28% increase profit from recurring operations to more than $5.4 billion in the first six months of 2018. Revenue increased 10% to $25 billion. The "selective retailing" segment of LVMH that includes Starboard Cruise Services, as well as beauty retailer Sephora and duty-free airport retailer DFS, saw revenue increase 15% to about $7.3 billion; profit from recurring operations increased 39% percent to $711 million.
"LVMH's philosophy is very much about each CEO at each company being very entrepreneurial. They are long term thinkers," Neumann said. "We benefit from being owned by LVMH in terms of training and especially as we're developing people talent. The other big benefit for me and the management team is that when we're looking to glean more consumer insights around the world LVMH has deep experience there."
CONNECTING WITH CONSUMERS
When Neumann talks about the vision for Starboard it is from a customer experience standpoint. Starboard focuses on making retail a bigger part of the cruise vacation, and it does that by connecting with guests in a non-retail sort of way. The retailer hosts events such as liquor tastings, makeovers in the beauty shop, and seminars on jewelry. And the shops themselves are more engaging, with highly trained staff, interactive displays and technology like tablets to keep guests entertained and informed. For example, Neumann says a liquor store doesn't need to look like a liquor store. It should look like a place where you have fun and can have an experience, like a bar.
"We really want to be known as a place of discovery, entertainment and ultimately the place where the guest will bring home that memory that will be the joy of their vacation. We talk about our pillars for service, which include: The connection with the consumer has to be fun. It's got to be about learning something new. On some ships we do watchmaker classes where guests learn what it takes to be a watch maker. It's got to be social, connecting guests with others who are like minded. And there's got to be high service," Neumann said.
But the Starboard Way is just one piece of a multipronged plan to build a world-leading retailer that offers a superior customer experience. The company has specific strategies when it comes to promotions, merchandising, supply chain and employee training to deliver on its value proposition.
"There's a couple ways that we can interact with guests. We have a retail magazine we distribute. We also do promotions on (in-room) television, so we can do brand storytelling that way. And we send guests hand-written thank you notes and invitations to events. But generally we are about getting our people interacting with guests on board in sort of a fun interesting way," Neumann said.
The retailer specializes in flash sales, and these aren't the sort of flash sales familiar in the e-commerce world. Starboard works with the cruise ships and with brands to offer flash sales at certain time periods during the cruise, say, on the last day of sailing for example.
The retailer promotes the flash sales on a voyage schedule that every passenger receives, or during general announcements on board the ships. Neumann says the key is to be careful not to engage in promotions that are seen by guests as too intrusive.
ASSORTING FOR VACATIONERS
One of the more challenging aspects of being a cruise retailer is optimizing assortments by ship, itinerary duration, ports of call and the demographics of passengers on a particular sailing. There may be a lot of families on one cruise who will want more food and value merchandise. Another ship may have more affluent travelers while others cater to millennials looking for bargains on brands.
"We are retailers at sea. You have to be a few miles out to sea to buy from us. And that's what allows the tax- and duty-free benefit for our customers. Our target market is all income levels, from high to low," Neumann said. "I always say I'll sell memories from five dollars to five hundred on any ship. Half of our business comes from 1% of the people on the ship, the other business comes from about 50 percent of the people on the ship."
Starboard has a variety of shops on its ships, from high-end boutiques to candy shops to a new mass concept called the Market, which has a wide assortment including food, general merchandise, apparel and jewelry.
Starboard works with more than 750 suppliers or brands and the retailer's biggest category is fine jewelry offered at a range of price points. Watches are the second biggest category with other major categories including leather goods, beauty, fashion jewelry, spirits and food.
"There's two categories that we are very focused on for the future," Neumann said. "One is destination products, locally important products. And the other area that is definitely emerging is kids. There is an opportunity for more growth in kids."
SUPPLY CHAIN AT SEA
How to get merchandise on board a ship, where to store it and how to replenish stores is one of the more unique operational challenges Starboard faces. Although a lot of the company's supply chain practices follow the same principles of land-based supply chains, the constraint that's different is that ships move and they might be in port only once.
"So we have to really think about how many times we can replenish a ship. There are some ships we have to replenish more because they have very little storage space. And a category like spirits has to have fireproof storage space, with fire doors. So for instance Australia is a big market where there's a lot of liquor sales on those ships so we've got to replenish quite often because the storage doesn't even come close to what's required," Neumann said.
The other piece of the Starboard supply chain puzzle is the ships are only in port for a few hours. "So you've got to have incredible port relationships and understand ports, customs, all of these rules and regulations around it are very, very unique. So we have very specialized people who understand customs, border patrol and have built relationships globally and it matters. It matters at every port who's bringing your goods on. If you miss a shipment, it's not like you can just get the goods onto the ship the next day. That ship may not be coming back to that port for three months," Neumann said.
The supply chain challenges mean a retailer like Starboard has to be nimble and have the right talent in place. The company has one permanent warehouse in Miami but uses other warehouses around the world as well.
SEEING THE WORLD
When it comes to human capital, Starboard focuses its training and education on teaching "the Starboard way" and what it means to deliver entertainment and social connection.
"We give our teams a sense of entrepreneurship, of owning the shop, owning the business. Because when you're on a ship you are disconnected from the home office. So we try to create that culture within the team that you know this is your shop. This is your business, how would you drive revenue? So we hold the team on board accountable to come up with ideas and drive their own business, and it's working," Neumann said.
Many of the Starboard shops have at least two salespeople per store, and each ship has a general manager, assistant managers and a shopper host catering to special guests. Many of the retailer's employees are foreign-born, which makes sense, since more than 50 percent of cruise guests are global citizens.
"We have ships in the Mediterranean for instance where we need to have five different languages spoken. I'm actually amazed at how many languages many of our staffers speak," Neumann said. She says the company doesn't really have any recruitment challenges, because there are people hankering for an opportunity they likely wouldn't be able to find in their home country. "People want to see the world. So I wouldn't say that we have a difficult time with recruiting. There's a lot of people who want to get on board ships."
Starboard puts new hires through rigorous training to get them up to speed on the kind of merchandise it sells. It also hires product specialists who already have that expertise. It teaches new hires what it's like to live and work on a ship. But more than anything, Neumann says, new Starboard employees are taught not to sell.
"The way we greet shoppers is that we don't assume they are there to buy. We greet them in order to connect with them," she said.
SMOOTH SAILING AHEAD
Another focus for Starboard is driving revenue once the guest leaves the ship. Because Starboard is a duty-free retailer, it cannot sell on land, but it does do some shipping to guests after the cruise is over.
"If a guest really wanted an item and we were sold out, then we would figure out a way to get it to the guest after the cruise," Neumann said.
Another focus for Starboard is launching a proprietary loyalty program. The company's current loyalty program is intertwined with the cruise line programs, but it is moving to a loyalty program in China with its own brand.
Overall, the long-term outlook for Starboard is sunny skies and calm seas, Neumann said. As the Asia cruise market continues to grow at a rapid pace, so does Starboard, currently operating 10 ships in the market and soon to add more.
"I think the biggest thing for us is to continue to be the leader in Asia, to continue to be the leader in new ships. And that's where we know we can add the most value. We are also focused on continuing to evolve what experience means. And deliver this incredible experience that combines entertainment, discovery and memories together," Neumann said. RL
Below: Royal Caribbean's Mariner of the Seas, and some of Starboard's stores on various cruise ships.