The digital first CEO transforming Sam's Club
Get great content like this right in your inbox.
Subscribe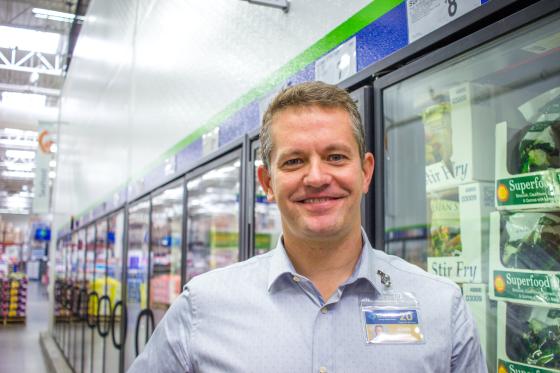 Lots of kids in high school and college join bands, but few become CEOs of multi-billion dollar companies. John Furner proved to be an exception, in part because skills he learned as a guitarist in the 1980s translate well to the retail world and his current role as President and CEO of Sam's Club.
"I was okay," Furner says when asked if he was a good guitar player. The groups he was part of played genres such as rock, metal and alternative and would show up to gigs never knowing what type of music would resonate with the audience.
"We figured out our original stuff wasn't that good, no one liked it except us, so we learned to play to the audience," Furner said. "We could play 60 or 70 songs in three or four genres. When we played a song that got people to stand up we knew that was the genre we were going with that night."
In addition to giving an audience what they wanted, being part of multiple bands taught Furner lessons about organizational dynamics and conflict resolution that have proven useful during a career at Walmart and Sam's Club that spans two decades.
"Being in a band taught me how to how to compromise and be part of a team. The band was the first time I had to deal with small group politics," Furner said. "There was a lot of emotion because someone would want to play a song a certain way or have a solo."
Furner long ago traded musical genres and playlists for product categories and items and today leads a $59.2 billion retailer where there are plenty of strong personalities with points of view about how best to serve members and grow sales. At 44, Furner is the youngest of nine executive officers listed in parent company Walmart's annual report, and he's intent on moving quickly to ensure Sam's Club remains relevant with future generations of shoppers, whenever and however they choose to engage with the brand.
He became CEO on Feb. 1, 2017 and after previously serving as Sam's EVP of merchandising and prior to that spending nearly three years in Walmart's international division as EVP of merchandising for Walmart China.
"I was fortunate to spend three years in China," Furner said.
So was Sam's Club because during Furner's tenure there he was exposed to a pace of innovation unrivaled anywhere in the world. Unconstrained by legacy systems, Chinese companies and consumers leapfrogged ahead to a world where mobile dominates all aspects of commerce and communications and has made the pace of change in the U.S. appear slow.  Not to be outdone, Sam's has raised the bar on innovation with its recently opened 32,000-sq.-ft. concept called Sam's Club Now in Dallas that took only three months to develop.
"We opened Now as a beta lab for the technology team. It was more about that than it was about creating a new format," Furner said. "What happens in our larger buildings is in order to do something with technology you have to build it at scale even if you are only going to use it in one place."
That's a slower process than doing something on a smaller scale that can be used in a controlled environment to develop applications and technologies that run independently from core systems. For example, the app running at the recently opened Now club has features built into it that aren't in the core app, but if they work can be quickly added.
"We wanted people to be able to interface with new technologies and we are taking a risk knowing that some of them may not work," Furner said. "It's okay to fail fast. What's not okay is to just keep failing at the same thing over and over again."
Directionally speaking, it is clear to see that some of the features being developed at Now are destined for prime time because they fit well with the low operating cost model of the warehouse club. For example, the Now club employs a different labor model, even though the building has about the same number of people per square foot as a typical 135,000-sq.-ft. building. The big difference is the tasks being performed by workers in a club that is only shoppable by using the feature rich Sam's app. For example, the checkout process is virtually frictionless because members use the Scan & Go feature of the app, developed two years ago, which enables them to skip the traditional checkout and pay by having a code scanned as the leave the building because they have already scanned items that were place in their cart.
"We are trying to make it as self-serve as possible with assistance when needed," Furner said. "Everyone except for one person works on the floor so we have more people facing our members. There is a job called the member host, which is different than the cashier, because you are not waiting for a member to walk up with a cart, but instead intercepting them up front to make sure they are set up with the app."
Furner likens it to a concierge service that teaches members how to shop in what is truly a digital first warehouse club replete with technology features that enable some old school tactics such as cross merchandising and wayfinding. The latter is important because clubs aren't heavily staffed and have minimal signing so the most frequent question employees are asked is where a product is located. The solution is voice navigation via the Sam's app that functions like Google Maps in a building.
"Conceptually, we know we want to do it. What we don't know yet is how we do it at scale," Furner said, noting that the technology required to execute navigation in Now would be too expensive to roll out. "We overbuild the proof of concept and then from there we let the really smart people who are running it and innovating with it figure it out."
Another thing the really smart people are figuring out is the role augmented reality can play in the shopping experience, to provide content and help grow sales while facilitating the treasure hunt experience that is central to the warehouse club merchandising model. For example, at the Now location, Furner explained a member using the navigation feature could see things on their phone that don't exist on the shelf.
"You may be looking at almond milk on the counter while something appears to touch on the screen to show you how to use almond milk to make a fruit smoothie," Furner said.
Fostering Innovation
While Furner's time in China exposed him to rapid innovation, it also helps to have four children under the age of 20 who are early adopters of technology and serve as an ever present focus group regarding what's next. Furner tells a story about a question one of his kids asked after hearing country singer Travis Tritt's hit song from 1991 with the hook, "here's a quarter, call someone who cares." The logical question asked by one of his twin daughters who had never used a pay phone was, "Why do you need a quarter? Why don't you just use your cell phone?"
"Kids are the best window to consumer insights, the way they think and work," Furner said.
Furners's kids also indirectly helped shaped the redesign of Sam's Club's home office in Bentonville to foster a culture of innovation and collaboration. The retailer created an open floor plan with cross functional teams grouped by merchandise classification. Open floor plans aren't always popular with employees, but at Sam's the design is spacious enough to allow for a degree of privacy and small meeting rooms are everywhere when privacy is required.
"The overall premise was to make it feel like a level playing field for everyone. We have more of a level structure than we have ever had and there are no reserved parking spaces for the executive team," Furner said. "As we were designing the space, I kept thinking in the back of my mind, 'is this a place I could see my kids, or their friends or people like them wanting to work in 10 years?'"
If the answer was yes, the change was made and if not Sam's had to let go of some things like nameplates and executive offices which conveyed status based on size and location.
"Today you walk through and it is just teams of people working on products," Furner said.
The open design was important for another reason – trust. By removing barriers, the open design is meant to foster camraderie and trust, which are seen as precursors to innovating around product, systems and process improvement, with the end game of increasing member satisfaction and sales.
"We benchmark ourselves against start-ups and were trying to find what it is about the environment that keeps them working innovatively, but also make sure we were operating in a way that maintains values," Furner said of Sam's design thinking. "What happens in some really creative startups is you have a great idea and people are so focused on the work they fail to define the principles and values by which they operate. Then they end up in the news for bad behavior."
Conversely, at larger organizations such as Sam's Club and parent company Walmart, there is a tremendous emphasis on principles and values, but also a tendency to operate in ways that are less innovative unless innovation is intentionally fostered.
"Innovation can only happen at the speed of trust. Having an environment where people are divided and they work in silos means there is a tendency to do the things that are best for their team before the broader group. When you put everyone together and they get to know each other the adversity goes away and the trust level goes up."
Focused on the Core
Furner is the latest in a long line of CEO's who have come and gone from Sam's Club, including Furner's current boss, Walmart President and CEO Doug McMillon who held the head merchant and CEO jobs at Sam's.
"It is very helpful that Doug had those two jobs and is now running the company," Furner said. "He is a great example of a person who changes as the business environment changes, is very curious and always learning. He is very open to the fact that we have to make decisions based on the information we have."
That's good, because Furner has had to undo some of the actions that took place on McMillon's watch. For example, earlier this year, Sam's announced plans to close 63 locations and has also moved to tighten the focus on the shopper segment Sam's serves and the private brand strategy.
"Hindsight is 20/20 and what Doug would tell you is if he ran Sam's again there are things he would have done differently. If you fast forward in five years and I'm not running Sam's there are probably things that I'll tell you I would have done differently," Furner said.
The Sam's strategy, which Furner readily concedes has vacillated over the years as senior leadership changed, is working today. Same store sales growth is consistent thanks to a tighter focus on who exactly Sam's core member is and how best to serve them. With a household income between $75,000 and $125,000, Furner describes Sam's core members as: "the above market income homeowner that typically lives in the suburbs with usually one person or two who are working, that has higher levels of college education and higher levels of home and car ownership than the general population. That is the group we are trying to serve and the group we are growing fastest with."
That core member is feeling pretty good right now and where Furner gets a quick read on sentiment is by looking at the mix of sales in the protein business. One of the surest indicators of consumer confidence is when members trade up to pricier cuts of beef and seafood from pork and chicken.
"In general merchandise, there are categories that people may only buy once a year so it is harder to see if something has changed or whether we just had a good season in patio furniture," Furner said. "The state of the consumer looks to be really strong. They seem to be confident and very resilient with household balance sheets that look good."
Focusing on the core is about more than narrowing the shopper base served. Also relates to the company's physical presence and optimizing a store base to serve the digitally engaged member. That was the mindset by Sam's move in January 2018 when it shocked the retail world by announcing plans to close 63 locations, roughly 10 percent of its store base, and convert nearly a fourth of those locations to fulfillment centers.  The first of these fulfillment centers opened in Memphis during the summer and other locations recently came online in Tampa, FL and Madison, Ill.
What Members Want
The proactive realignment of Sam's physical presence was about getting ahead of where shoppers are heading and it is the same philosophy that affect merchandise decision-making. This mindset is best exemplified by the dramatic growth Sam's has experienced with its Member's Mark brand.
"We are taking the approach that if we have a brand where we can differentiate or have a value or quality level that is different than the market then we stay with the brand," Furner said. "If we have a position where we can't do that or a category where there is no clear winner in terms of brand then it is our job to create the very best Member's Mark item we can."
The application of that philosophy has helped Sam's Club increase Member's Mark penetration to nearly 28 percent of sales and 34 percent of unit volume, compared to a little less than 17 percent of revenue in 2015. It also helped that Sam's unified a disparate portfolio of roughly 20 brands under the Member's Mark banner, resulting in a much stronger identity.
"In every category, we start by asking, 'what do we believe is the right item to sell?' After you've determined what the item is, we ask 'where and how would I source this in the most efficient way to give our members the best possible value they can get?'" Furner said.
While Sam's Club strategy is resonating with members today, Furner is keenly aware that moving with speed to out-innovate competitors is what will ensure the company's long term success. It is something he is reminded of when visiting the office of Walmart CEO McMillon who keeps a copy of a 1930's Sears & Roebuck catalog on his desk. It serves as a reminder that things come and go in retail and what is old can become new again if given enough time.
With the retail world in a state of disruption and the notion of channels and competition in flux, Furner's simple view is that, "You still have to execute better than everyone and keep evolving and innovating."