07/16/2018
Dollar General hits a new high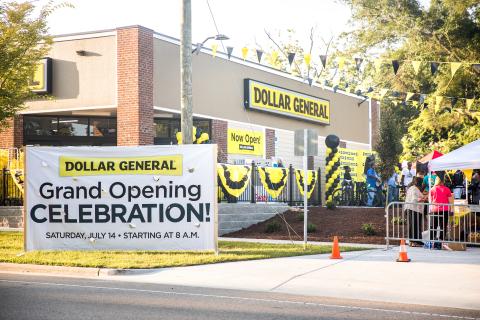 Dollar General has achieved a significant milestone on the road to opening approximately 900 new stores this year.
The company's announcement of its 15,000th store came just days after rival discounter Dollar Tree announced its 15,000th store opening.
Dollar General's 15,000th store opened in Wilmington, N.C., this week at the same time the company announced that it is celebrating this achievement by donating $15,000 to five local schools to support literacy and education initiatives.
Dollar General also presented the first 500 adult customers with $10 gift cards and tote bags containing a variety of complementary products. A number of Dollar General's vendor partners participated in the festivities by providing giveaways and entertainment throughout the day. Customers were treated to breakfast, lunch and a selection of Clover Valley private brand snack samples in the afternoon.
"Opening our 15,000th store is a major milestone for Dollar General," said Todd Vasos, Dollar General's CEO and Wilmington native. "Since our humble beginnings in Scottsville, Kentucky, almost 80 years ago, we have become one of the fastest growing retailers in the U.S., created tens of thousands of jobs and grown into a trusted partner for countless communities in 44 states, including 800 store locations in North Carolina. As we have grown, we have remained committed to our mission of Serving Others by delivering value and convenience to our customers in each of the communities we serve. I am grateful for the efforts of more than 130,000 employees who work hard every day to help meet the needs of our customers."
Dollar General has made significant strides this year as it overcame seasonal headwinds to post impressive sales growth during its first quarter. According to their annual first quarter report ending on May 4, the company's same-store sales profited by 2.1 percent. The report also disclosed that the company expects its share repurchases for fiscal 2018 to be approximately $850 million. Capital expenditures for fiscal year 2018 are expected to be in the range of $725 million to $800 million. In addition to opening 900 stores this year, Dollar General announced that they are expecting to remodel 1,000 stores and relocate 100 stores.
The company said in March of this year that it will rely on a familiar formula of new stores and increased same-store sales to drive growth while also implementing new digital initiatives.
"As we move into 2018, we continue to build momentum behind initiatives that we believe will further enhance our strong value and convenience proposition with consumers and drive long-term success," said Vasos in March.
Last year the company named former banking executive Rob Scruggs as Chief Digital and Customer Engagement Officer to fill a newly created position in which he will lead the strategy for customer engagement including digital experience and tools.
"We continue to focus on enhancing our digital presence and meeting our customers when and how they decide to engage with us," Vasos said. "I'm confident with Carman's vision we will continue to strengthen these efforts as well as leveraging technology to improve our processes, lower costs and drive a better customer experience."