09/07/2017
Fresh food propels 99 Cents Only to new sales heights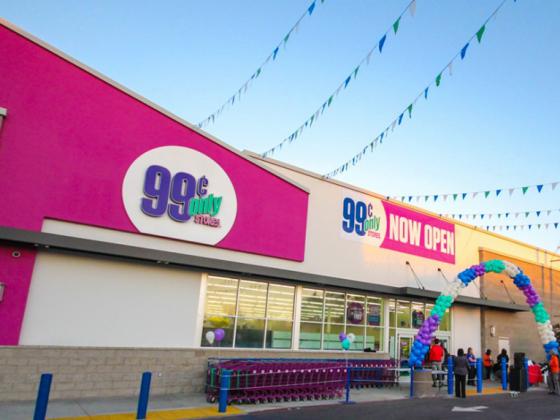 Grocery sales are skyrocketing at California-based discounter 99 Cents Only Stores, which reported a 9% spike in comps in the second quarter.
For the period ended July 28, the retailer said net sales increased to $540.5 million, up 8.9% compared to the prior year. Same-store sales increased by 9% compared to the prior year. Gross margin, as a percentage of net sales, increased to 28.8%, up from 28.4% in the prior year. 
The discounter says sales from grocery and fresh offerings increased dramatically, driven by better product availability, improved product assortment, as well as continued improvements in store in-stock levels.
"The second quarter offers further evidence of the progress we have continued to make in executing our turnaround plan. Our focused strategy of improving the company's operating performance is yielding encouraging results," said Geoffrey Covert, president and CEO. Mr. Covert continued, "On a same-store basis, sales increased 9%, resulting from a 4.7% increase in transaction count and a 4.1% increase in basket. This was driven by our emphasis on providing higher-quality merchandise, expanding our fresh variety, enhancing our in-stock position, strengthening our marketing efforts and improving the customer shopping experience. We are also benefiting from increased sales in our above $1 products, as we believe our customers appreciate the extreme value of the merchandise that we provide. We are working to differentiate the 99 Cents Only brand by focusing on fresh, seasonal and closeout merchandise at the lowest prices."  
The company has long signaled that it wants to focus on fresh food. In August the retailer named Caitlin Tierney as its director of produce, a newly created position. Focusing on fresh food and healthy products is a smart move, as dollar stores have become increasingly popular with price-conscious shoppers who want to shop healthy on a budget. Millennials are also increasingly shopping from dollar stores, mostly for quick fill-in trips or store-branded toiletries.
Dollar General has forecast net sales to increase by about five percent to seven percent for the year ending Feb. 2, just short of the 7.8 percent average growth it reported over the past two fiscal years.
Dollar Tree expects net sales for the year ending January to rise 5.9 percent to 7.4 percent. The company reported an average growth rate of 8.6 percent in the past two years, excluding sales from Family Dollar, which it bought in 2015.
During the second quarter at 99 Cents Only, Net loss was $33.6 million in the second quarter of fiscal 2018 compared to net loss of $35.1 million in the second quarter of fiscal 2017.
The company is reiterating the following previously issued outlook for fiscal 2018:
Positive same-store sales growth
Year-over-year decrease in net loss and an increase in adjusted EBITDA over the same period
Three new store openings, all in the second half of the year
Capital expenditures of approximately $53-$58 million
As of the end of the second quarter, the company operated 391 stores.