How Postmates is quietly winning the last mile
Get great content like this right in your inbox.
Subscribe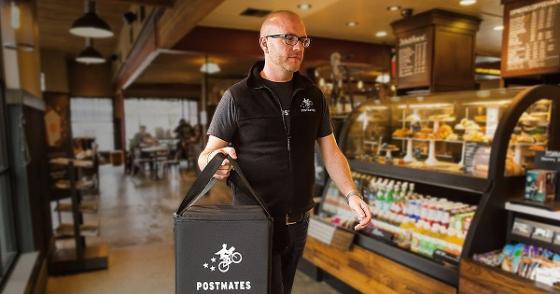 Last mile delivery company Postmates is now worth about $1.2 billion after raising another $300 million in a financing round led by Tiger Global Management.
The new round is the first time Postmates has announced new funding since 2016, when it raised $140 million at a valuation of about $600 million. 
"The transformation of how commerce moves in cities demands that we build the most innovative tools for businesses to keep up and distribute their products to the modern consumer--efficiently and cost effectively," Postmates CEO and Co-Founder Bastian Lehmann said. "Postmates is proud to be the first and largest on-demand network that is enabling the growth of retail across the country, and today's investment accelerates our ability to pair technology with the vitality of our neighborhoods."
The U.S. food and grocery delivery market is experiencing a flurry of competition and investment as companies such as Postmates seek to capture the loyalty of a growing group of consumers who are opting to order in instead of going out.
Instacart, Postmates, Shipt, Uber Eats, Bite Squad and many others are all battling Amazon to become the last mile solution of choice for both retailers and consumers.
Postmates has established itself as a market leader in the fast-growing delivery sector, by balancing smart unit economics with a sustainable growth strategy. As the creator of on-demand "anything," Postmates gives customers, across 400 U.S. cities and Mexico City, access to over 250,000 merchants with real time deliveries. 
Earlier this year announced an agreement with Walmart to help expand the retailer's popular Online Grocery Delivery option to more than 40 percent of U.S. households. Postmates will help power the Walmart's Online Grocery Deliveries, with further expansion planned in the coming months.
In addition the funding announcement, the company also announced:
Gross profit growth averaged over 250% in the past four years while gross margins have improved dramatically to nearly 50%
Postmates completes millions of deliveries a month, generating over a billion dollars in gross merchandise volume (GMV) annually and driving profitability in 90% of its markets
While the company has attracted investor attention for its sustainable growth strategy across urban centers (including the #1 market share in Los Angeles and other major Southwest markets) it also oversaw the single largest market expansion in the on-demand industry this year, unlocking 131 new urban and suburban cities in one day, and boosting its coverage to 1 in 2 U.S. households in July.
The on-demand industry's first and least expensive subscription model, Postmates "Unlimited," also saw record adoption in 2018, with a doubling of total subscribers since 2017. Since it's unveiling, Unlimited has grown 300% year over year, with 1 in 2 orders on the platform now being placed via Unlimited across multiple markets.
The company also expanded its selection reach across top U.S. brands at a breakneck pace this year, by adding Walmart, Chipotle, 7-11, Shake Shack, Blaze Pizza, and Los Angeles and New York sushi hotspot, Sugarfish to its already robust roster of national restaurant and retail partners.
With this funding, Postmates will expand its selection advantage; broaden coverage to over 70% of U.S. households by the end of the year; unleash new point-of-sale integration technologies; deploy state of the art API tools (offering white-glove delivery services to non-brick and mortar retail partners at scale); scale social impact investments & new workforce development policies; and invest in cutting edge R&D to devise new last-mile mobility solutions.