Kroger and Ocado in huge digital deal
Get great content like this right in your inbox.
Subscribe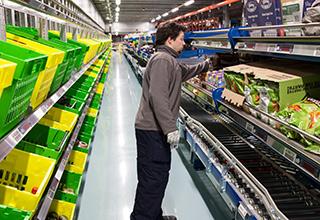 An exclusive partnership between Kroger and leading U.K. online grocer Ocado could result in the development of up to 20 automated warehouses over the next three years and make Kroger the retailer Amazon and Walmart worry about.
The deal represents Kroger's most significant digital move to date and positions the company to win in a rapidly evolving marketplace. Food retailers looking to serve shoppers' growing expectations for home delivery are expected to rely less on physical stores as the centerpiece of how they serve digital shoppers and more on purpose built facilities optimized for the unique supply chain challenges of food retailing.
Kroger and Ocado said they are already working to identify the first three sites in 2018 for development of new, automated warehouse facilities in the U.S., and will identify up to a total of 20 over the first three years of the agreement. Kroger said the partnership with Ocado, a recognized pure-play e-commerce leader with annual sales of $2 billion in the U.K.'s highly developed grocery market, will accelerate its creation of a seamless shopping experience for America's families.
"We see Ocado as an innovative, exciting and transformative partnership in pursuit of our Restock Kroger vision, to serve America through food inspiration and uplift," said Rodney McMullen, Kroger's chairman and CEO. "We are actively creating a seamless digital experience for our customers. Our partnership with Ocado will speed up our efforts to redefine the food and grocery customer experience – creating value for customers and shareholders alike."
The alliance will bring to the U.S. for the first time the unparalleled technology underpinnings of the Ocado Smart Platform, which includes online ordering, automated fulfillment and home delivery capabilities, according to the companies.
(See what happens inside an Ocado automated warehouse, click here)
Kroger said it would increase its investment in Ocado, giving it a 6% ownership interest in the company, ensuring that Ocado partners exclusively with Kroger in the U.S., enhancing the supermarket chain's digital and robotics capabilities and helping expand its seamless coverage areas.
"Ocado's unique, proprietary and industry-leading technology is set to transform the shopping experience of consumers around the world," said Tim Steiner, CEO of Ocado Group. "Our success as a retailer shows that we can offer customers unrivalled choice, quality and convenience, efficiently and profitably. The opportunity to partner with Kroger to transform the way in which U.S. customers buy grocery represents a huge opportunity to redefine the grocery experience of Kroger's customers and create value for the stakeholders of both Kroger and Ocado."
Steiner, who has a tendency to make bolder claims than McMullen, added that the companies would be working through the terms of services agreement in the coming months and, "preparing the business for a transformative relationship which will reshape the food retailing industry in the U.S. in the years to come."
Online grocery overall is growing at a rapid pace after lagging the e-commerce adoption rate of other e-commerce categories for the past decade. Kroger has participated in that growth and last year grew digital sales by more than 90% as it expanded its ClickList service to more than 1,000 stores. That means Kroger, as McMullen noted in his recent shareholders' letter, now offer a seamless experience to more than two-thirds of its 60 million customers.
While click and collect offerings such as Kroger's Clicklist have been embraced by retailers and shoppers, relying on stores as fulfillment centers – either for home delivery or order pick up – is inherently inefficient from a supply chain standpoint and not seen as a long-term solution. This explains why Kroger has embraced Ocado's technology platform as it will allow Kroger to be less reliant on leveraging stores as distribution nodes, a purpose for which they were not intended as currently merchandised.