A retail event for the new age of conscious consumerism
Get great content like this right in your inbox.
Subscribe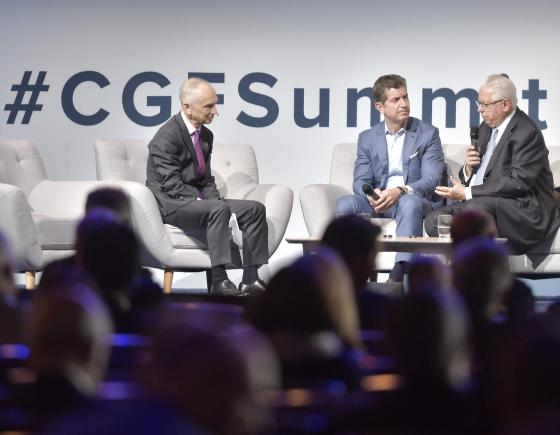 Close to 1,000 of the retail and consumer goods industry's top executive gathered in Vancouver, British Columbia in mid-June for what Oracle executive Michael Forhez dubbed, "the Davos of Retail." Davos, of course, is the tiny town in Switzerland where the World Economic Forum hosts an annual event for the world's business elite to gather and address global issues. When the elite of the retail and consumer goods world come together it is the Paris-based Consumer Goods Forum that serves as host and facilitator of dialogue on the industry's most pressing issues.
Unlike Davos, the Global Summit is held in various locations - Singapore last year, Berlin the year before, London next year – but the common theme is attendance by the bigest names in the industry. For example, retailers who spoke this year included, Rodney McMullen, Chairman and CEO of Kroger; Olaf Cook, Chairman of Metro AG; Frans Muller, CEO of Ahold Delhaize; Judith McKenna, President and CEO of Walmart International; Stefano Pessina, Executive Vice Chairman and CEO of Walgreens Boots Alliance; Galen Weston, Executive Chairman of Loblaw Companies and Sarah Davis, President, Loblaw Companies.
Their counterparts from the world of consumer goods also read like a who's who and included, Alex Gorsky, Chairman and CEO of Johnson & Johnson; Max Koeune, President and CEO of McCain Foods; Mark Schneider, CEO of Nestle; Daniel Servitje, Chairman and CEO of Grupo Bimbo; David Taylor, President and CEO of Procter & Gamble; Hamdi Ulukay, Founder, Chairman and CEO of Chobani, Jean Paul Agon, Chairman and CEO of L'Oreal, Ian Cook, Chairman, President and CEO, Colgate-Palmolive and Seth Goldman, Executive Chair of Beyond Meat and Co-Founder of Honest Tea.
In addition, technology and solution provider companies were also among the participants, including the aforementioned Michael Forhez, Global Managing Director of Oracle's Consumer Markets Industry Solutions Group, Thomas Kurian, CEO of Google Cloud and Bryan Pearson, CEO of LoyaltyOne.
The speakers who participated focused generally on the topic of, "Growth Through New Retail," a phrase attributed to Alibaba founder Jack Ma who used "new retail" several years ago to describe Alibaba's blending of digital and physical retail.
The Consumer Goods Forum took a more expansive view of the new retail philosophy to encompass the role of new technologies to rapidly reshape business models, the power of purpose to inspire consumers and employees and the importance of new forms of collaboration to achieve impact at scale.
Scale was certainly in abundance at an event where the attendance of so many top executives prompted a protest from Greenpeace, tight security and the use of metal detectors at entrances. It comes with the territory when large corporations gather, whether in Vancouver or Davos, to address large, seemingly intractable global problem.