04/16/2018
Retailers' food waste efforts get an 'F'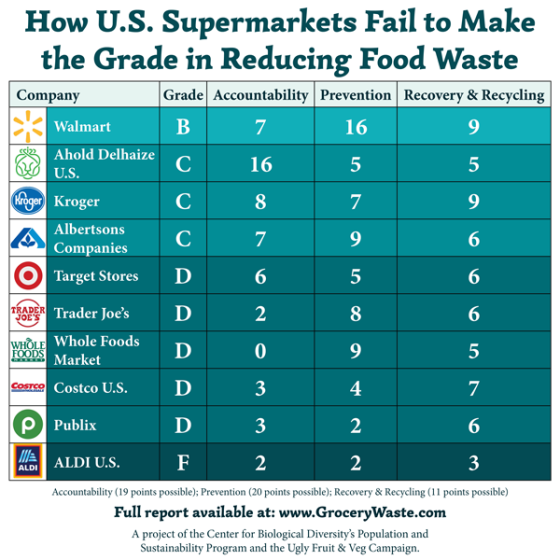 The 10 largest food retailers in the U.S. do a poor job of handling food waste, according to a new report.
According to "Supermarkets Fail to Make the Grade in Reducing Food Waste," released Monday by the Center for Biological Diversity and the "Ugly" Fruit and Veg Campaign, U.S. grocers focus on donating and recycling food waste, rather than preventing it — and they're not even tracking food waste throughout their entire operations.
In the report, letter grades took three overarching categories into account: how much public information a store shared about food waste, what it was doing to prevent food waste, and where its discarded food went. 
Key findings include:
Nine out of America's 10 largest grocery companies fail to publicly report their total volume of food waste. Ahold Delhaize was the only company that publicly reported its total food-waste volume.
The four companies that earned a C grade or higher overall were the only ones with specific food-waste reduction commitments. Kroger leads the way with a commitment of zero food waste by 2025.
Four of the 10 companies have no "imperfect-produce initiatives," which can prevent the waste of fruits and vegetables considered too "imperfect" for retail sale.
Walmart was the only company with a variety of clear in-store efforts to reduce food waste, such as improving store fixtures, standardizing date labels, and educating associates and shoppers.
All 10 of the companies have food-donation programs, with the majority operating company-wide. ALDI was the only company that did not report a food-recycling program (e.g., composting or a program to reuse unsold food as animal feed or for other industrial uses).
See the full report here.