Sam's Club gets rid of checkouts, and more
Get great content like this right in your inbox.
Subscribe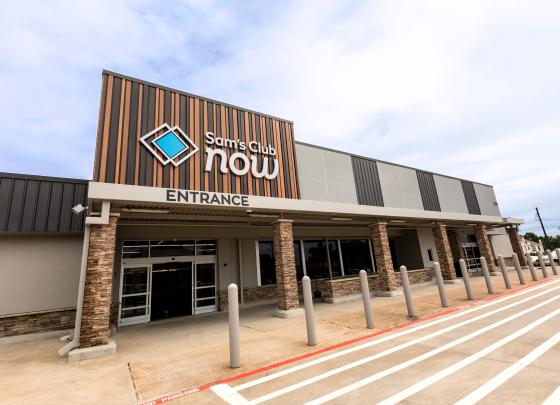 We now know what Walmart's response is to Amazon Go, and it's not going to be at Walmart at all. At least not yet.
Walmart's Sam's Club division announced it is opening a cashier-less store in Dallas, Texas, that will let customers skip the checkout line by scanning and purchasing groceries with an app.
Customers will load the "Sam's Club Now" app when they enter the new store and use it to navigate aisles, view shopping suggestions, and add items to their mobile cart before placing them in their physical one.
"In June, we shared a key part of our innovation strategy when we announced we'd open a new club in Dallas. Today – just four months later – we're very close to opening this location we're calling Sam's Club Now, which will be the epicenter of innovation for Sam's Club," said Jamie Iannone Chief Executive Officer, SamsClub.com and Executive Vice President of Membership and Technology. "There won't be another club like it. It will be a mobile-first shopping experience powered by the new Sam's Club Now app. At its core, Sam's Club Now will be a technology lab that doubles as a live, retail club. It's where we will incubate, test and refine technologies to help define the future of retail."
The Dallas store location will be 32,000 square feet, a quarter of the size of the average Sam's Club. The store's relatively compact size will make it easier to test new technologies, such as electronic shelf labels with prices that update automatically, Iannone said. 
"Our associates are key to bringing this experience to life, which is why we're introducing a new role called the Member Host. Think of these associates as the concierge of the club. We'll empower them with new technology that will allow them to serve members better and faster. We've known for a long time our associates make the difference, and that won't change just because shopping preferences evolve," he said.
Sam's Club plans to eventually install more than 700 cameras in the store to help manage inventory and optimize the store's layout.
Sam's Club is also taking Scan & Go and making it the foundation of the new Sam's Club Now app, which all members will use to shop. This will be an interactive experience and they'll help the retailer test and refine new features before they are launched nationally. When it opens, features will include: 
Smart shopping lists: We've developed intuitive technology that combines machine learning and purchase data to auto-fill a member's shopping list. They can easily add or remove things, and as items are scanned the list will automatically update and move the item to their mobile basket.
Wayfinding and navigation: Gone are the days of wondering where something is in the club. Using voice search capabilities combined with new wayfinding and navigation features, a map will pop up and take members right to what they need. Eventually, we'll be able to use beacon technology and a member's smart shopping list to map the best route through the club.
Augmented reality: We'll bring items to life in the club by sharing new ways to use them, and we'll work to integrate stories that highlight cool features, including how items are sourced. We also have plans to use augmented reality to transform members' digital carts into pirate ships. Or maybe you'd prefer a rocket? More on that soon!
One-hour Club Pickup: Using the app, members can now place and pickup an order within the hour.
"The Sam's Club Technology team, including technologists from our Innovation Center in Dallas, are leading this work for us. But innovation in Sam's Club Now doesn't stop with the app. At just 32,000 square feet, the club is a quarter the size of an average club. This makes it an ideal space to test new technologies that will make operating the clubs easier and more efficient," Iannone said. "We're putting Sam's Club on the cutting edge of innovation in the warehouse channel. Using all available technologies – including computer vision, AR, machine learning, artificial intelligence, robotics, just to name a few – we will redefine the retail experience today and into the future!"